Welcome to Hidden Gem, Gut Check's short love letter to restaurants, coffee shops and bars that lie off the beaten path. These places soldier on in relative anonymity, beloved by their regulars, but largely overlooked by the greater populace. Hidden Gem will attempt to rectify these terrible oversights. Have a Hidden Gem of your own to share? Tell us in the comments.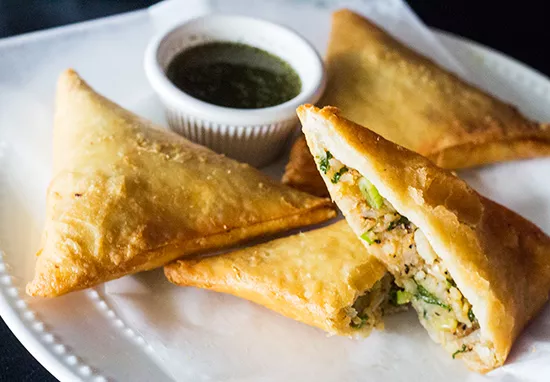 Flaky samosas stuffed with veggies and served with tzatziki. | Photos by Mabel Suen
Twenty-one-year-old Mohammad Noori originally dreamed up the plans for Oasis Shisha Lounge (6417 Hampton Avenue; 314-481-1993) with his younger brother, Qais, while they were teenagers growing up in south city. However, tragedy struck before they could complete them together. A car accident took Qais' life, and it wasn't until last November that Noori came across his brother's business portfolio and decided to continue with what they started.
In late February, Oasis opened quietly in St. Louis Hills, featuring a menu that's prepared entirely by their mother using family recipes. The purposely word-of-mouth concept has already attracted a regular crowd and combines the siblings' love for authentic Afghan food and hookah.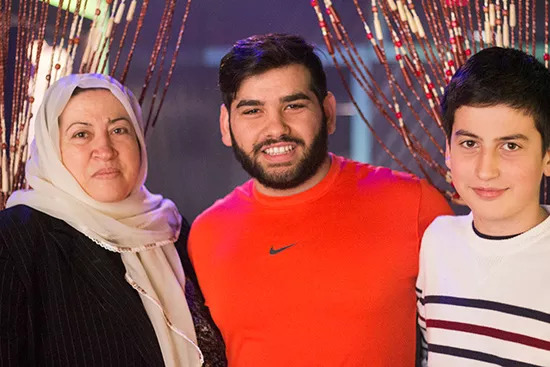 Owner Mohammad Noori (center) with his family.
"Everything in here was what my brother had planned to do," says Noori, pointing out the space's renovations since its former life as Tumo's, an Italian restaurant.
The ceiling and exposed brick have been painted black, with sections of the walls given a facelift with bright teal accents. Shadows of the space's former life remain, however, including stained-glass windows dividing vintage booths. In the back room, labeled the "Xhale Lounge," Qasi's jersey adorns the wall, and raised seating topped with lavish pillows gives guests a secluded place to unwind.
A look at the dining room.
"When we first wanted to open up a place, we said we're going to have a menu that complements the hookah, or a hookah menu that complements the food," says Noori. "Two weeks before we had our grand opening, I sat in the back room and had 30 different flavors of hookah and about seventeen different dishes.... I was taking a bite of every dish and smoking different hookah to find the best combinations. No matter what you eat from the menu, there's a hookah flavor that fits perfectly."
When our order of beef kabob -- marinated beef served with rice and a side salad -- hits the table, Noori recommends a mint or winterfresh flavor to provide a clarifiying, refreshing counterpart to the meal.
Continued on the next page.
"This is a family business. My mom doesn't want to step out of the kitchen," Noori says, pointing out that the house samosas are his grandmother's recipe. "I once went to Restaurant Depot to buy some sauce for the gyro. From day one, my mom said she'd take full responsibility for the kitchen. So when I brought the tzatziki in, she flipped. She tossed the can at me, saying, 'Nothing here is going to be store bought. Everything here is homemade.'"
Noori comes from a Muslim background and explains that the kitchen uses only halal meat, though it's awaiting official certification. The menu begins with "Shisha-tizers" including large, triangular-shaped vegetable or beef samosas for $1.50 each, hummus and falafel. Entrees include gyro, kabobs, chicken kurma and chicken biryani. Dessert includes crepe batter that's made from scratch.
Entrees come with the option of a simple side salad.
For drinks, diners can choose from a long list of fruit smoothies, Turkish coffee, Arabic tea and more. The hookah menu features Fumari and Starbuzz brand hookah -- all in all, a few dozen flavor options including ambrosia, white gummy bear, apple americano and cosmopolitan. Oasis uses handmade Egyptian Khalil Mamoon hookahs, says Noori, adding that the copper body never rusts and therefore does not leave a metallic aftertaste over time like other hookahs do.
Available booths for seating.
Another aspect of the lounge that Noori prides himself in is a communal atmosphere. Though the abrupt house dance music and smoky environs might seem a little off-putting for first-time patrons, Oasis aims to make the space a comfortable place for socializing. To that end, Noori went out of his way to cut down distractions.
"Every time I went out to a bar or restaurant somewhere, everybody was on the phone. You'd see a group of six people with six different phones," says Noori. "So I put a cell blocker here. You should still get emergency calls and texts, but your Internet slows down significantly, so you're kind of forced to have a conversation."
Oasis Shisha Lounge's current hours are Tuesday through Thursday from 3 p.m. to midnight, Friday through Saturday from 3 p.m. to 3 a.m. and Sunday from 3 p.m. to midnight. For more information, check out the Oasis Shisha Lounge Facebook page.
Click through for more photos.
Staff blow on hookah coals to keep them glowing hot.
The space Oasis fills was formerly an Italian restaurant.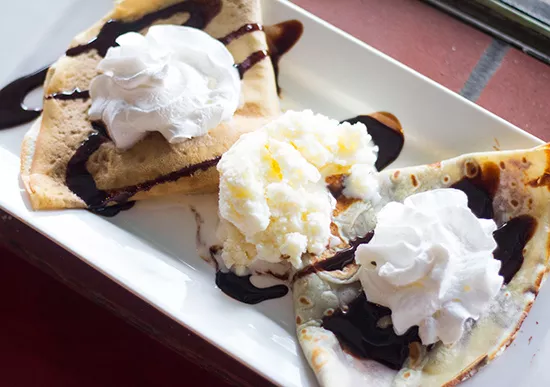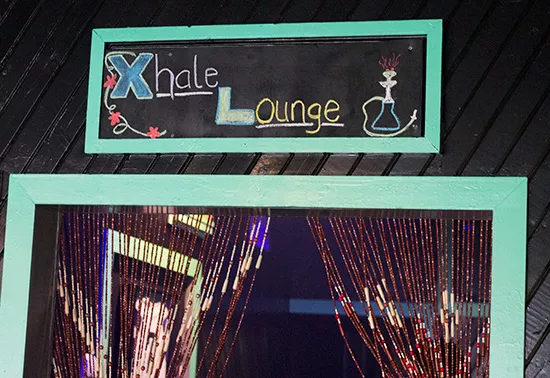 The "Xhale Lounge" features pillow-top seating.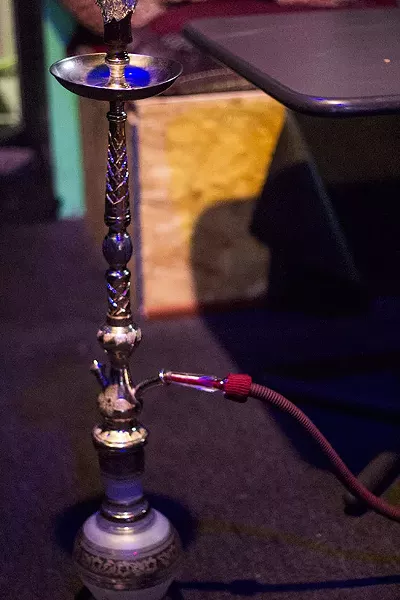 A handmade Khalil Mamoon hookah.
Now open in St. Louis Hills.
Previously on Hidden Gems: - Monte Bello: A Basement Pizza Kitchen That's About to Become St. Louis' Worst-Kept Secret