"Purple Beet and Orange Salad" with arugula and a North African vinaigrette seasoned with cumin, cinnamon, honey and lemon. | Photos by Mabel Suen
Fans of beautiful beets, behold: the Purple Martin (2800 Shenandoah Avenue; 314-898-0011) opened in Fox Park in late March, and true to its namesake, diners will see plenty of purple accenting everything from the restaurant's space to its plates. Located in a residential neighborhood (directly across from Fox Park itself), the American bistro boasts bold North African, Greek and Middle-Eastern flavors.
See also: Purple Martin Brings Homey North African Cuisine to Fox Park
Co-owners Brook Roseberry and her husband, executive chef Tony Lagouranis, have lived in Fox Park for fourteen years and recognized the need for a welcoming community gathering place with wholesome food. On a Saturday evening, Roseberry stops to check in and have dinner with her own family, something she hopes other area residents will do.
"We've been so busy with the opening that didn't have any food in the house, so I brought the kids up for doner kebabs," she says with a smile.
Exposed brick and a glowing sign adorned with decorative Purple Martins -- a North African swallow -- provide a backdrop for the bar. Seating along the walls comes lined with colorful pillows to lend a cozy and casual vibe suitable for patrons of all ages.
The menu starts with a selection of soup, meat and cheese plates, and salads, including a bright "Purple Beet and Orange Salad" with summer beets, orange slices, arugula and a North African vinaigrette infused with cumin, cinnamon, honey and lemon.
Entree specialties include doner kebabs, squash couscous and Lablabi, a Tunisian garbanzo bean peasant stew in garlic cumin broth with bread, poached egg, pickled onions, capers, preserved lemons, harissa pepper sauce and optional seared tuna. Alternatively, opt for a flatbread: local sausage or roasted garlic with fresh mozzerella.
A section of the dining room.
The drink menu features $8 cocktails in three separate categories: "light apertifs," "fresh and lively," and "bold and robust." Choose from options including a Champagne cocktail with cognac and bitters, a "Mint-Spray" whiskey cocktail with fresh citrus, and the "Southside Pickup" with bourbon, Italian vermouth and Fernet Branca. A selection of local beer as well as wine by the glass or bottle is also available.
The Purple Martin's current hours are Tuesday through Thursday from 5 p.m. to midnight, Friday through Saturday from 5 p.m. to 1 a.m. and Sunday from 10 a.m. to 2 p.m. For the menu and more information, check out the Purple Martin's website and Facebook page.
Click through for more photos.
Lablabi, a Tunisian garbanzo bean stew with garlic cumin broth, bread, a poached egg, cilantro, pickled onions, capers, olives, preserved lemons, tuna and harissa pepper sauce.
The sign glows even more intensely at night.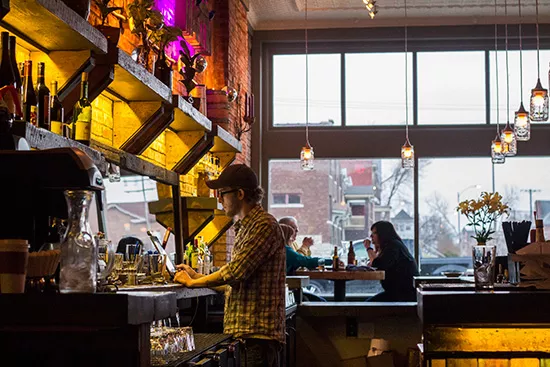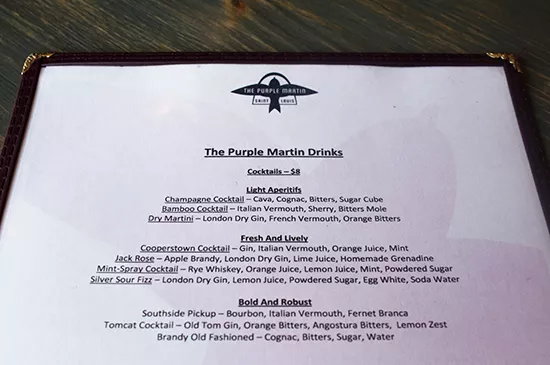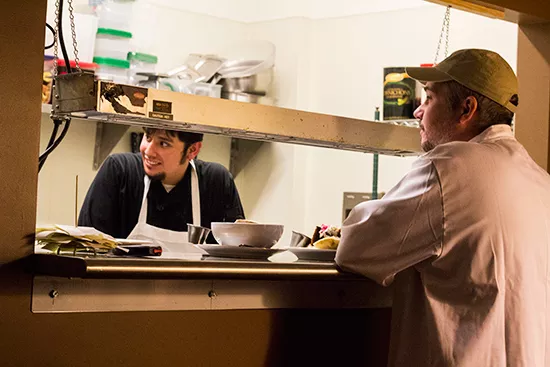 A peek at the back-of-the-house during a dinner rush.
More purple to go with the theme.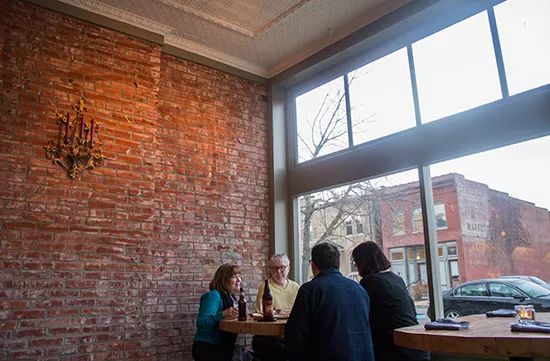 Front room seating by the window.
A Purple Martin house adorns the dining room.
Located at the corner of Shenandoah and California Avenues.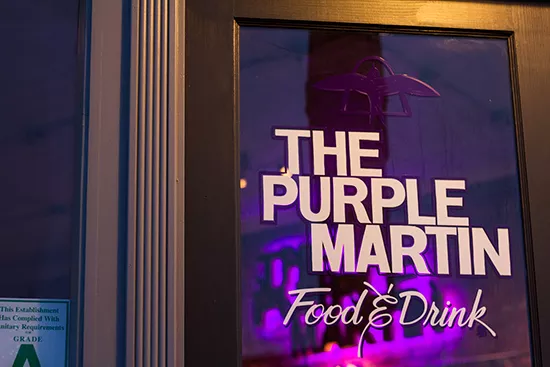 See also: - First Look: Corvid's Cafe - First Look: The Dark Room - First Look: Three Flags Tavern - First Look: 21st Amendment - First Look: Los Punk
Gut Check is always hungry for tips. E-mail us!