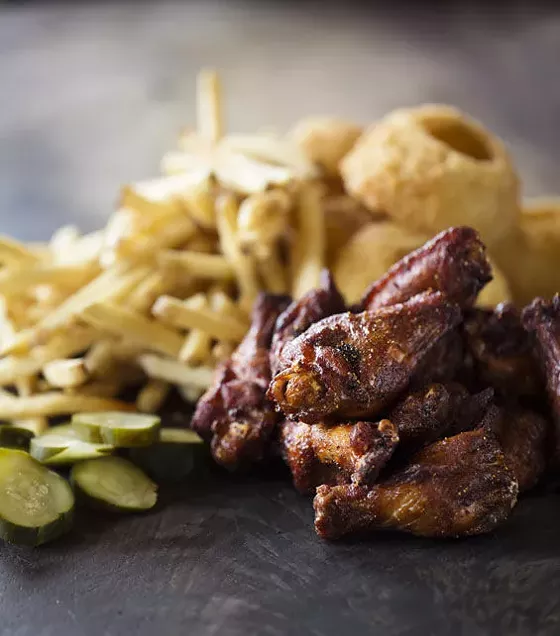 The smoked chicken wings at WildSmoke. | Jennifer Silverberg
Choosing a favorite chicken wing is like selecting a favorite song: With so many different styles, it's an impossible task. Sometimes, the tangy, Louisiana-style heat of the Buffalo wing dipped in funky blue cheese is the only thing that satisfies. Other occasions call for some thick, molasses barbecue sauce, or perhaps an Asian-inspired glaze. Everyone has their favorite; it's what makes crowning a champion so controversial -- different strokes for different, very opinionated, folks.
See Also: Stick to Your Ribs: WildSmoke succeeds at barbecue basics, but stumbles when it goes off-script
WildSmoke (12316 Olive Boulevard, Creve Coeur; 314-548-2222) has the best chicken wings in St. Louis. At least that's what the folks at the 2013 St. Louis Wing Ding decided -- and we tend to agree. Owner Andy Kohn says the secret to the Creve Coeur smokehouse's wings is the triple rub: The wings are dry rubbed, smoked, rubbed again, fried, and finished with a final coating. The result is a sauce-free masterpiece -- a mingling of brown-sugar sweetness and a deep savory Worcestershire punch. There's a little bit of heat to please the spice lovers, but not too much to scare off those who love a milder version. And the chicken itself? Plump, juicy and falling off the bone. Buffalo who?
Previously: #89: The Duck Prosciutto Flatbread at Bella Vino #90: The "Dam Burger" at the Dam #91: The "Hog Mess" at Blind Tiger #92: Khao Soi at Fork & Stix #93: The "Smokehouse Club" Sandwich at Bud's Smokehouse #94: Cafe Natasha's Yogurt Dip #95: Macarons at La Patisserie Chouquette #96: The Libertine's Fried Chicken #97: Pork Belly at Element #98: M'Lwee at Baida #99: Breadbasket at Juniper #100: Bucatini All'Amatriciana at Pastaria
Follow Cheryl Baehr on Twitter at @CherylABaehr. E-mail the author at Cheryl.Baehr@RiverfrontTimes.com.
---