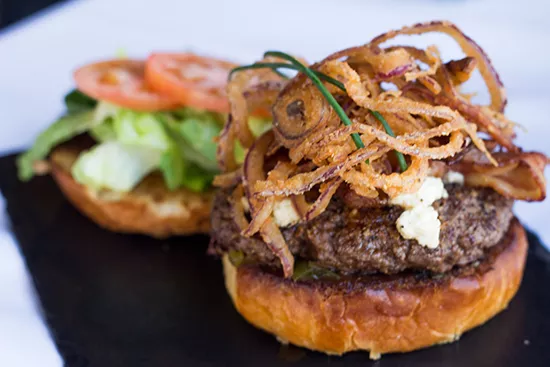 Jax Burger. | Photos by Mabel Suen
The Place: Jax Cafe (2901 Salena Street; 314-449-1995)
The Hours: Happy hour is offered Monday through Friday from 3 to 5 p.m.
The Deal: Discounted selection of appetizers, $2 domestic beers and $3 rail drinks.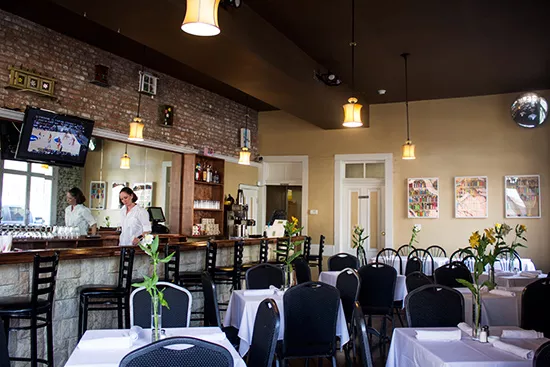 The Scene: Jax Cafe occupies a quiet corner in Benton Park, where chef Brian Hale rolls out a menu of home-cooked American-style comfort foods. The casual restaurant retains the homey vibe of the neighborhood with a few classy touches. The room features a bar, exposed brick and several tables topped with white tablecloths and fresh flowers.
The Food: Happy-hour appetizer options are truffle fries, chips & dip, pretzel sliders, the "Jax Burger" and duck-egg rolls. These plates are typically available on the standard menu, and the happy-hour selections cost even less than half of the regular price.
At only $5, the "Jax Burger" doesn't skimp on flavor. A buttery, toasted brioche bun comes topped with a juicy beef patty, creamy Boursin cheese, housemade steak sauce, fried onion straws, pickle relish, bacon, tomato and lettuce. This meal, folks, is a steal and certainly a satisfying way to indulge savory cravings.
Did Jax Cafe make the grade? Find out on the next page.
The Verdict: For a quiet place to melt the stress of the day away, grab a table and unwind at Jax Cafe. We found the truffle-tinged fries dusted with rosemary sea salt and served with shallot aioli to be the perfect accompaniment to the "Jax Burger." They were piled high in a bowl, teeming with crispy edges and full of fragrant flavor.
As for the duck confit egg rolls, a recent addition with the advent of a new dinner menu, we might pass on it next time in favor of a trio of the brisket and mushroom pretzel sliders. Though the egg rolls' sauce and accompanying slaw were nice and tangy, the confit itself got lost somewhere in the process. Besides, it's the sandwiches where Jax Cafe excels, and the burger comes equipped to sate a mammoth appetite at an incomparable price.
The Rating: On a scale of one to five...

Previously on Happy Hour Handbook: - Mile 277 Tap & Grill - Sandrina's - Mangia Italiano - Kirkwood Station Brewing Company - Steve's Hot Dogs on the Hill
We're always looking for some more happy hour meal deals. E-mail the author at mabel.suen@riverfronttimes.com.