Josh Galliano gathers the family. | Nancy Stiles
In what we hope will become a regular series on Gut Check, "Family Dinner" goes behind the scenes of this most sacred of restaurant rituals -- the before-service staff dinner, or "family meal." This is a chance to see what restaurant chefs, servers, cooks, runners and bussers are eating before the mad dash of service. It's a behind-the-scenes peek at cuisine that is not on offer to the public.
First up, family meal at the Libertine (7927 Forsyth Boulevard, Clayton; 314-862-2999).
"A good staff meal sets the stage for a good shift," chef Josh Galliano told us the night he welcomed Gut Check into his kitchen.
See also: The Libertine: Clayton's "neighborhood eatery" is more like St. Louis' best new restaurant
Chef Josh Galliano rallies the troops. | Nancy Stiles
Here's a simple irony of dining out: While customers are wolfing down appetizers and entrees, the people rushing the plates out are often starving. Step behind the kitchen doors, and there's a food runner snatching a piece of bread, perhaps a server chokes down the soup du jour out of a coffee cup. Then there is the most mocked of all restaurant creatures -- the "seaguller" picking at a guest's half-eaten crab cake.
At least, that's what it's like at restaurants that do not plan a family meal. And while this late-afternoon supper can sometimes be as simple as cold sandwiches, more forward-thinking of chefs treat the occasion as an opportunity to experiment with extra product or a new cooking technique, or simply to build camaraderie before service.
Galliano knows the importance of a well-fed crew and places a priority on providing for his staff as well as he can. And the night he invited Gut Check to observe his philosophy in action was no exception.
"We don't really have a set plan," Galliano explained while showing us around. "We don't have a schedule of who is cooking family meal when. We tried that, but found that we can't plan on how everyone's workload is going to be on a particular day."
He said family meal at the Libertine usually ends up being the responsibility of the daytime crew.
"We see what we have to use. Sometimes they get really into it and go all out. Other times, especially on Sundays, we'll call up Qui [Tran of Mai Lee] or the guys at Mission [Taco] and tell them we need some carryout."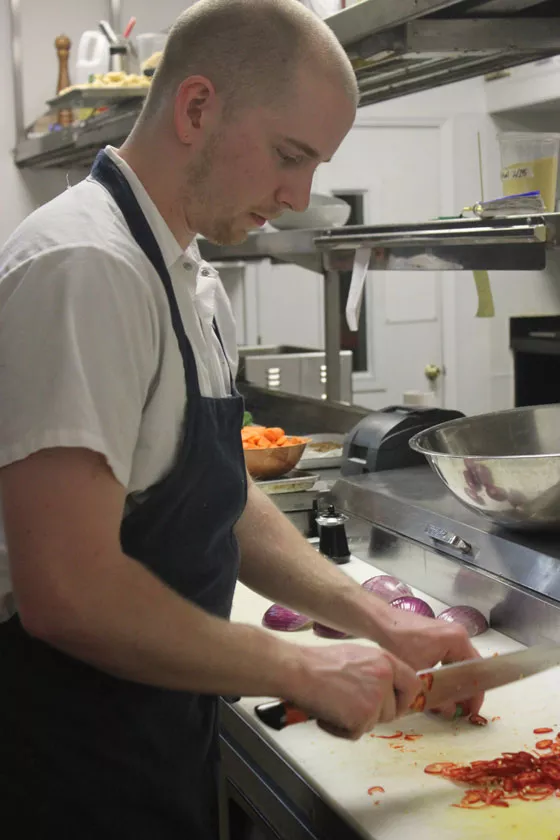 Executive sous chef Josh Poletti prepares the shift's family meal. | Nancy Stiles
On the day of our visit, the Libertine's staff was in for a real treat -- a huge slab of porchetta, which is a fatty, stuffed piece of pork wrapped in the skin and roasted.
"We had a large party on the books for Saturday night, and they requested porchetta," Galliano said. "They had to cancel because of the weather, but we already had this on hand, stuffed and marinated."
Naturally, he couldn't bring himself to chuck such a gorgeous (and pricey) piece of meat, so the staff was living high on the hog that evening.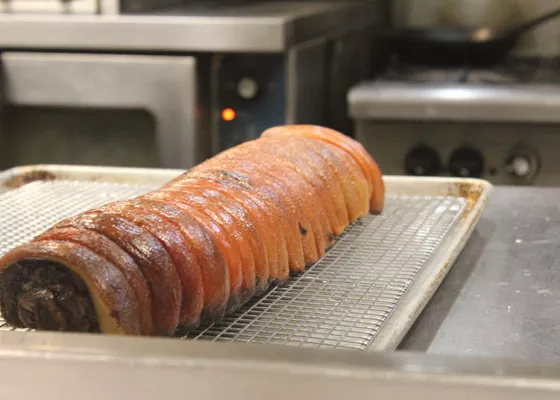 Executive sous chef Josh Poletti put the porchetta in the oven as soon as he arrived that morning so it had time to slowly roast.
"It's stuffed with salt, pepper, chile flakes, all the dago spices," Galliano described.
It wouldn't be a porchetta feast without the proper accompaniments: roasted vegetables and parsnip potato puree.
Poletti prepares the porchetta's accompaniments. | Nancy Stiles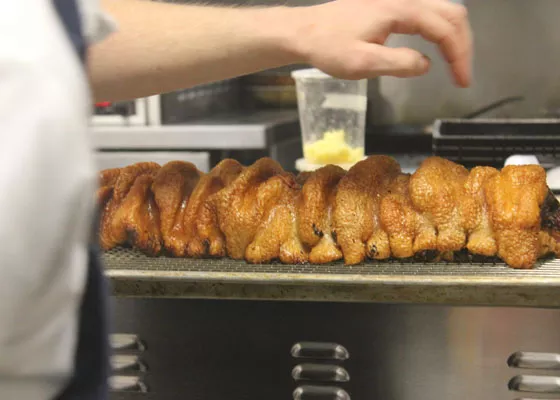 Porchetta, right out of the oven. | Nancy Stiles
After slow roasting for approximately six hours, Poletti blasted the porchetta for a few minutes in a high heat oven to crisp up the skin.
"It's the world's largest chicherone," he exclaimed as he pulled the meat out of the oven.
A piece of the crispy pork skin. | Nancy Stiles
Galliano said that he tries to avoid "gut buster" family meals so that the staff doesn't crash halfway through the shift. If this crispy pork skin was any indication, this family meal failed in that department. (It's a shame there is no audio accompanying the above photo. The pork skin crackled in our hands for a good minute).
The finished product. | Nancy Stiles
Poletti sliced the porchetta, revealing its tender, juicy interior, then drizzled some salsa verde over each individual piece. The result was a meal that rivaled anything set in front of a guest that night. The crew eagerly lined up with plates and helped themselves.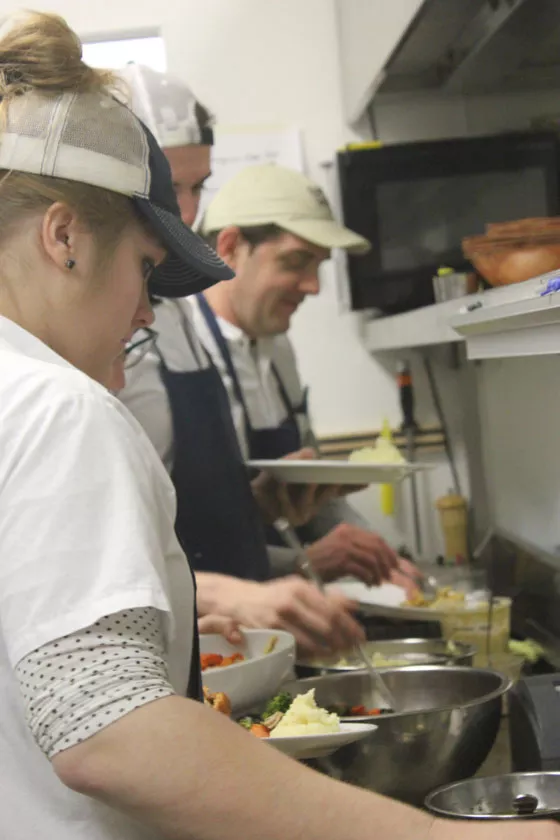 The Libertine kitchen crew lines up for family meal. | Nancy Stiles
"When it's a good staff meal, there's nothing left," Galliano said. On this particular day, there was a mad rush to the porchetta. There wasn't a scrap to be found after everyone got their share.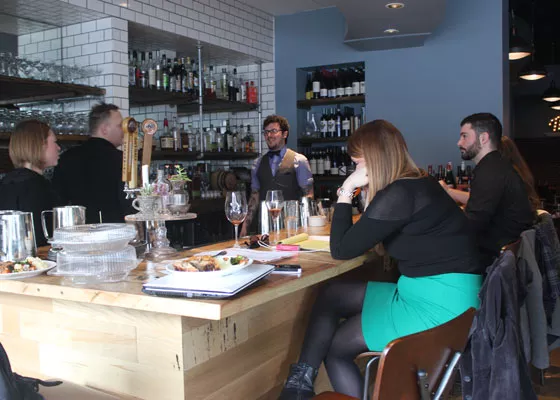 The Libertine team enjoys family meal before the night's service. | Nancy Stiles
Family meal at the Libertine. | Nancy Stiles
No, the porchetta wasn't and isn't on the menu -- this was a one-time only, family meal for lucky Libertine employees. Just the way it's meant to be.
Does your restaurant do a family-meal program worth profiling? If so, Gut Check wants to know -- contact info below.
Follow Cheryl Baehr on Twitter at @CherylABaehr. E-mail the author at Cheryl.Baehr@RiverfrontTimes.com.
---