Welcome to Sugar High, a series devoted solely to spotlighting the best ways to sate a sweet tooth in St. Louis. We'll sample the best the city has to offer at restaurants, bakeries and holes-in-the-wall, and provide some insight on how these confections are made along the way.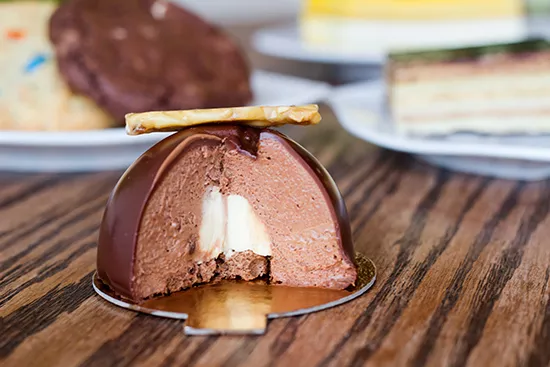 A look inside Brevan's Patisserie's "Brendan." | Mabel Suen
Few things in life pair as well together as peanut butter and chocolate. Brendan Maddox, the ten-year-old son of Brevan's Patisserie's (1009 Century Drive; Edwardsville, Illinois; 618-307-5772) pastry chefs Dan and Amy Maddox, agrees. The husband-and-wife duo named the dessert after their oldest son's favorite flavor combination. Since opening their bakeshop in January, the chocolate-and-peanut-butter bombe has become a customer favorite.
See also: First Look: Brevan's Patisserie's Family-Friendly Desserts and Sweets in Edwardsville
Dan and Amy Maddox met while apprenticing for the Gaylord Opryland Resort & Convention Center in Nashville, Tennessee. There, they honed their skills preparing pastries for hundreds -- sometimes thousands -- of guests at a time. Their knack for compact and consistent individually sized French pastries shines in the "Brendan," a carefully composed, dome-shaped dessert.
The treat begins with a peanut butter crème brûlée filling, frozen into a mold and enveloped by a larger dome of chocolate mousse. After some more peanut butter is applied, the dessert is set atop a disc of Devil's food cake with some chocolate-covered "crunchies," lending texture. Finally, after one more round of freezing, chocolate ganache creates an outer layer, topped with a garnish of housemade peanut brittle.
The result: layers and layers of delightful peanut butter and chocolate flavors.
Previously on Sugar High: - Winslow's Home's Chocolate Cake with Espresso Meringue - La Patisserie Chouquette's Eclair - Black Bear Bakery's Raspberry Oat Bar - Gelateria's London Fog Gelato - 4 Seasons Bakery's German Cheesecake - Libertine's "Candy Bar" - Cleveland-Heath's Old Fashioned Cherry Pie - Schlafly Tap Room and Bottleworks' Sticky Toffee Pudding
We're always looking for some sweet ideas. E-mail the author at mabel.suen@riverfronttimes.com.