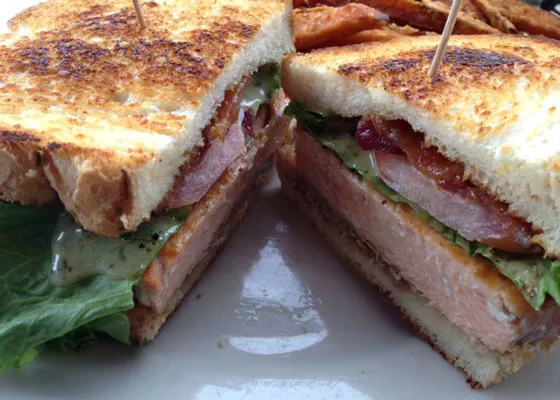 A salmon bacon, lettuce and tomato sandwich with lemon caper aioli. | Nancy Stiles
If you look through the past Guess Where I'm Eating contests, you'll see that we really like BLTs. Regular, turkey, avocado -- you name it. This week, we had a salmon BLT, and it was delicious. Think you know where we got it? Take a guess in the comments and you could win some free food.
UPDATE: Commenter sauerpower83 was right -- we were at Three Kings Pub (6307 Delmar Boulevard, University City; 314-721-3355).
See also: UPDATED: Guess Where I'm Eating This Pizza and Win $25 to Addie's Thai House
Simply study the photo and leave your best guess in the comments. If you're the first correct answer, we'll give you $25 to to De Palm Tree Jamaican Cuisine (8631 Olive Boulevard, University City; 314-432-5171).
Rules: To be eligible, you must leave a valid e-mail address (or Twitter handle or Facebook profile URL) in the comment-entry field. One guess per e-mail address. Employees of the restaurant in question and the Riverfront Times are not eligible.
Gut Check is always hungry for tips and feedback. E-mail the author at nancy.stiles@riverfronttimes.com or follow her on Twitter.
---