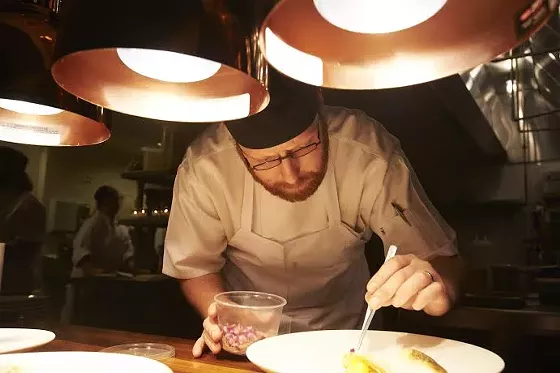 Chef Ben Welch of the Precnict | KFB Photography
"I've heard Mike Emerson is my competition," Ben Welch said, matter-of-factly, as I dug into his brisket. I thought this comparison to Pappy's co-owner was hyperbole. After all, taking on the undisputed godfather of St. Louis barbecue is a bold move. One bite of the glorious, smokey meat, however, made me understand his confidence.
As the new executive chef of the Precinct (1900 Locust Avenue; 314-588-8899), Welch was called in by owners Mark Winfield and Jim Edmonds to turn around the bar and grill after negative reviews and an internal assessment that the food was not up to par. In addition to rewriting nearly the entire menu, Welch added a smokehouse menu to showcase his barbecue prowess.
"I've told people that if this isn't the best brisket they have ever had, I will buy their lunch," Winfield says. "So far, I've never had to do that."
Welch took some time away from the grill to answer some of Gut Check's most pressing questions.
See Also: The Precinct Launches Revamped Menu
Welch says that he began cooking brisket because of his dad. The elder Welch called him one day to get his advice on preparing brisket for a dinner party, but the younger Welch missed the call. When they caught up after the party, Welch told his father everything he would have done to the meat, and was inspired to start smoking once a week to perfect his process. At this point, he has it down to a science, citing several things that make his so good: a constant, precise temperature (225 degrees), allowing the meat plenty of time to rest, slicing it correctly and the secret rub.
What is one thing people don't know about you that you wish they did? I don't feel like I have any secrets as I'm usually saying too much. I'm in love with learning and research. The time I spent teaching was good for me both personally and professionally. On a daily basis I was reminded of what I knew and didn't and that once upon a time I also had some of those "stupid questions." The things we take for granted... Oh, and of course, I want my own restaurant.
What daily ritual is non-negotiable for you? Every day my mom, sister and I share a group text reminding each other, "Love you or Love you more." Maybe that's more non-negotiable for my mom though. Besides that, I begin every day with a large coffee and a menthol.
If you could have any superpower, what would it be? I'd be mental telepathy-telekinesis-shapeshifting man.
What is the most positive trend in food, wine or cocktails that you've noticed in St. Louis over the past year? I get the sense that everyone is having fun. The sharing.
Who is your St. Louis food crush? It would be a tie between Wilfrin Fernandez-Cruz [Winslow's Home] and Mary Boehne [Cielo], one has that damn accent and skinny jeans and the other is the cake master.
Who's the one person to watch right now in the St. Louis dining scene? Who am I not watching right now? I'm watching the movement.
Which ingredient is most representative of your personality? Truffle oil, either you love it or you don't.
If someone asked you to describe the current state of St. Louis' culinary climate, what would you say? Determined, passionate and educated; I think we are in a period of the city re-inventing itself. It's getting harder to recommend good/great places for friends to visit because there are so many. I've been part of the restaurant business in this town since the........ehhh, late '80s and never before has the local service industry been so varied, distinctive, focused and fun.
Name an ingredient never allowed in your kitchen. Green peppers, a need for a trinity. I don't want green peppers in my kitchen.
What is your after work hangout I've paid my dues in the bars of St. Louis over the years and with age I've realized there is no other place (within reason) that I'd rather be than on my couch with three fingers of chilled tequila caressing my guitar.
What's your food or beverage guilty pleasure? Anyone who knows me well knows that I love me some tequila, it gets me in just enough trouble...
What would be your last meal on earth? It would include fried chicken, bacon, mac & cheese, cheese sticks, chocolate, deviled eggs, smoked brisket, gummies, and apple juice. Yep, eating all of that would definitely kill me.
Follow Cheryl Baehr on Twitter at @CherylABaehr. E-mail the author at Cheryl.Baehr@RiverfrontTimes.com.
---