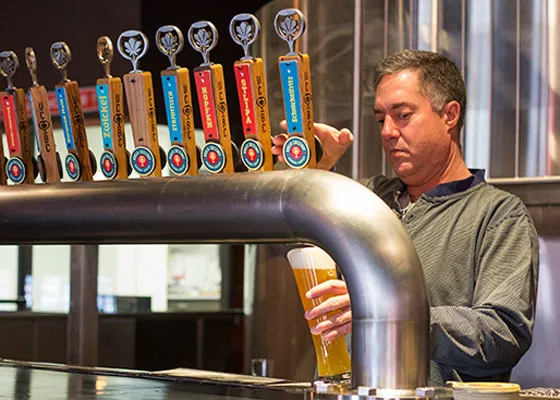 Meet the French hop-growers at Urban Chesnut's Hopfenfest. | Mabel Suen
Forget the rain, we're determined to be outside as much as possible this weekend. The Kirkwood and Lake Saint Louis farmers' markets are kicking off. Or you can hit the Claverach Saturday Evening Farm Dinner for more of a farm-to-table experience. Check out the rest of our food-related recommendations after the jump.
See also: Oceano in Chesterfield to Rebrand as Bishop's Post, Serving Upscale Comfort Food
Friday (Apr. 4)
Unfish Fry @ First Unitarian Church
Despair not, Lenten vegetarians. This Friday, the fish fry is, well, fish-free. Choose from falafel, veggie chili, and mac & cheese plus green beans, applesauce and desserts. Enjoy live music; beer and wine will be available, too. 5:30 p.m. to 8 p.m. Adults $7, kids $4.
Kirkwood Farmers' Market @ Downtown Kirkwood
This Friday marks the beginning of the 38th season of the Kirkwood Farmers' Market. Pick up poultry, eggs, dairy, cheeses, produce, veggies, plants, handmade items and more. You can also snack on Walk Out Waffles, Tropical Moose or Brad's Kettle Corn. Farms include Menard Farms, Three Spring Farms, Farrar Out Farm Organic Produce & Poultry and more. Friday, 9 a.m. to 6 p.m. and Saturday from 8 a.m. to 5 p.m. Admission is free.
Saturday Evening Farm Dinner @ Claverach Farms
This dinner series kicks off tonight with Claverach's first harvest -- the menu is inspired by the first baby greens and herbs shooting up in the garden. The four-course menu begins with pureed potatoes with chives, then it's pea shoots, purple radish shoots and herbs topped with pickled sardines, followed by herb-stuffed porchetta with shiitakes and polenta. Finish up wtih lemon pudding cakes. You can bring your own wine for a $10 corkage fee, but Claverach does have a limited selection. From 5 to 9 p.m., $65 per person, reservations required, available here.
Hopfenfest @ Urban Chestnut Grove Brewery & Bierhall
Haven't been to Urban Chestnut's new craft beer mecca in the Grove? Here's your excuse. Meet the hop growers from Alsace, France, and get your beer geek on. You'll sample four different beers with cheese pairings and get a full pour of your favorite, plus a commemorative Rastal sampling glass. There will also be live music from Wack-a-Doo. From 1 to 5 p.m. Tickets are $25 per person, available at either Urban Chestnut location or online here.
Annual Winemaker's Dinner @ Chaumette Vineyards
The annual dinner is hosted by executive chef Adam Lambay, owner Hank Johnson and vintner Mark Baehmann. Six courses will be paired with Chaumette's new releases. The evening begins with sautée of shrimp with pear butter, watercress and honey vinaigrette, followed by cream-roasted chicken with Baetje Farms goat-cheese crisps, leeks and golden beets. The third course is pan-seared Meyer Farm pork loin with rhubarb jam, tarragon "pie crust" and mesculin, followed by grilled trout with roasted spring potatoes, spinach pesto and creamed spring onion. The fifth course is roasted Jones Heritage Farm lamb chops with mushroom fricassee, puree of root vegetable and sprouts. Finish with tart cherry compote with chocolate meringue & cocoa milk. From 6:30 to 9:30 p.m. Tickets are $80 per person; reservations required. Call 573-747-1000.
Saturday (Apr. 5)
Lake Saint Louis Farmers' & Artists' Market @ The Meadows
The Lake Saint Louis Farmers' Market kicks off its 2014 season in the parking lot of the Meadows shopping center at Highway 40 and Lake Saint Louis Boulevard. It's the only farmers' market in St. Charles county that is all-local and producer-only. Everything at the market is made or grown within 100 miles of Lake Saint Louis. Admission is free. From 8 a.m. to noon, rain or shine.
Sunday (Apr. 6)
Food Outreach's A Tasteful Affair @ Four Seasons Hotel
Food Outreach's annual fundraiser has a Roaring '20s theme. Enjoy tastings of more than 50 local restaurants and caterers while bidding on hundreds of items in the auction. Restaurants include Cleveland-Heath, Cielo, Juniper, Pappy's, Eleven Eleven Mississippi, Vernon's BBQ and more. From 2 to 5:30 p.m. General admission tickets are $75 and VIP tickets are $150, available here.
Plantation Rum Tasting & Seminar @ Planter's House
Sample Plantation rum and learn how it's made with Hugo Chambon-Rothlisberger of Cognac Ferrand. Small plates will also be served. 1 to 3 p.m., reservations required. Call 314-696-2603. $25 per person. Gut Check is always hungry for tips and feedback. E-mail the author at nancy.stiles@riverfronttimes.com or follow her on Twitter.
---