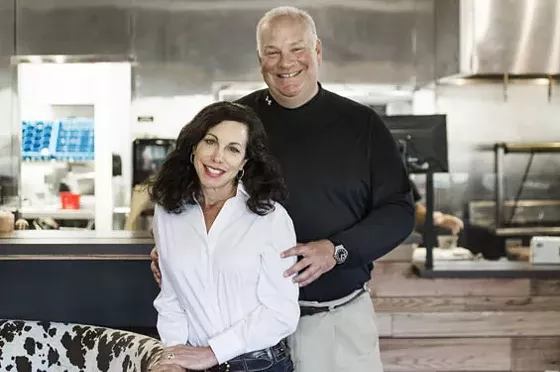 WildSmoke owners Dee Dee and Andy Kohn | Jennifer Silverberg
Andy Kohn has learned a lot about the barbecue preferences of St. Louisans. In the two short months that WildSmoke (12316 Olive Boulevard, Creve Coeur; 314-548-2222) has been open, the restaurateur has already had to tweak the menu to satisfy the city's tastes. "We made 27 changes in the first week," Kohn says.
He originally envisioned his Creve Coeur smokehouse as offering creative twists on the classics. But he soon found out that the city is conservative about its barbecue. "People have a very particular impression of what barbecue is," Kohn explains. "If you don't serve exactly what they are used to and comfortable with, they let you know."
See Also: Stick to Your Ribs: WildSmoke succeeds at barbecue basics, but stumbles when it goes off-script
They certainly let Kohn know about the sides. If there is one criticism that has been consistently leveled against most of the city's barbecue joints, it is that the sides are boring throwaways. Kohn and his WildSmoke team thought they would separate from the pack by offering creative interpretations of classic side dishes, such as the root-beer baked beans and fried potato salad. "Those are gone," Kohn says. "I live by the 20 percent rule. Twenty percent of our customers loved them. Sixty percent were OK with them. They liked them enough, but they could take them or leave them. Another 20 percent absolutely hated them, and guess what -- that 20 percent was the vocal group. I can't run a business in which 20 percent of my guests don't like what we do."
Kohn says that the inspiration for WildSmoke came while playing around at his other restaurant, EdgeWild Restaurant & Winery. "We have had our [award-winning] wing recipe since day one at EdgeWild. People liked them so much that we started doing more smoked meats. We began to do 'Smokin' Sundays' where we just had fun, smoking turkey and prime rib. It was so well-received that we decided to open WildSmoke."
But while his patrons at EdgeWild appreciate the creative approach to barbecue, those at WildSmoke are a little less forgiving. "It's heartbreaking from a culinary standpoint," Kohn admits. "We make everything from scratch. We don't just open a box and put grease and smoke flavor in it. But people just want what they want. We'll do mustard potato salad and regular baked beans and coleslaw. The other items will run as creative sides.
"You can't please everyone," Kohn continues, "but I'm in the people-pleasing business, so I have to try."
Follow Cheryl Baehr on Twitter at @CherylABaehr. E-mail the author at Cheryl.Baehr@RiverfrontTimes.com.
---