Radio stations have done some pretty crazy contests over the years. But this time, no one was competing for front-row Justin Bieber tickets. Instead, DJ Chris Ward tried to eat a record number of pizza rolls to raise funds for the independent radio station KDHX on Monday night.
For every $10 that was pledged during that night's show, Ward would eat one pizza roll. The unofficial world record is 41 pizza rolls in three minutes, by the way.
See also: Glutton for Punishment: One man's attempt at six St. Louis eating challenges
"I knew it was going to be gross, but I didn't know it would actually be disgusting," Ward told us afterward. "I also didn't realize my palate has changed quite a bit since I was, you know, twelve years old."
Before he hit the airwaves at 11 p.m. on Monday night, some of his friends had expressed concern for his health. So he added another facet to the stunt: Donate $20 -- and specify it as a "saving throw" -- and five pizza rolls would be taken off Ward's total.
Ward makes good on his promise. | Kelsey McClure
"It was my first ever pledge-drive show, so I wanted to make a good showing on loudQUIETloud," he says, referring to his radio show. KDHX is mostly listener-supported, so, like NPR, they solicit donations on air a few times a year.
Ward's grand total was $700 -- or 51 pizza rolls -- which will go to keep the independent radio station on the air. "I feel great knowing I took a silly idea, and was able to use social media and the support of a pretty amazing city. It was a blast," Ward says. "I'll continue spinning music every Monday at 11 -- but probably focusing on music instead of inedible garbage. People get enough that on the Point."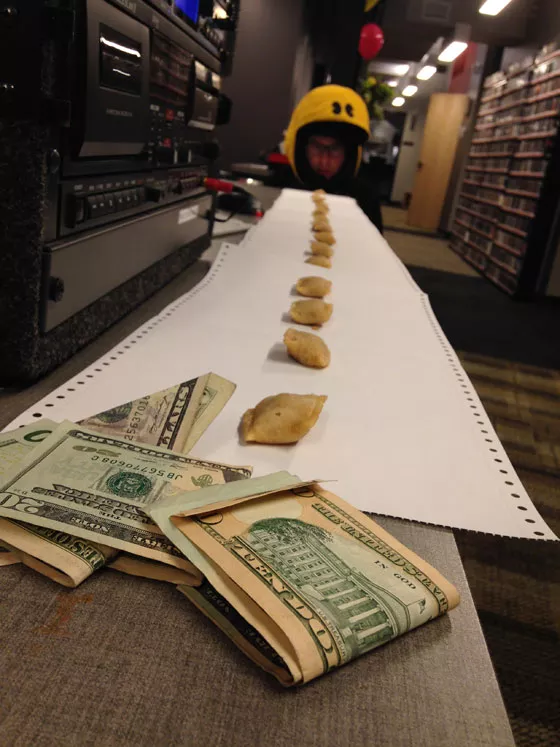 Oh, it's on. | Kelsey McClure
Gut Check is always hungry for tips and feedback. E-mail the author at nancy.stiles@riverfronttimes.com or follow her on Twitter.
---