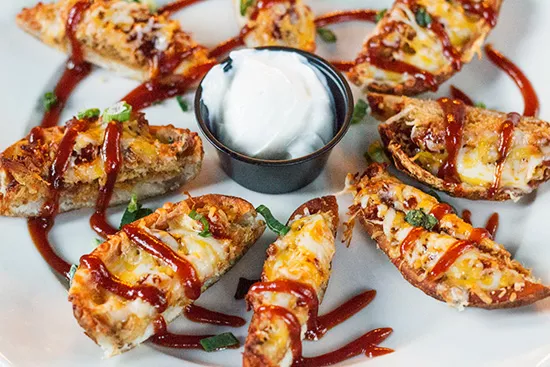 Photos by Mabel Suen
Potato skins.
The Place: Mile 277 Tap & Grill (10701 Watson Road, Sunset Hills; 314-645-3277)
The Hours: Happy hour is offered Monday through Friday from 2 to 7 p.m. and Saturday through Sunday from 11 am. to 5 p.m.
The Deal: $3 happy-hour drinks including Smirnoff cocktails, domestic bottled beer, Big Dawg domestic draughts, rail liquor and house wine. More than fifteen options of half-off appetizers ranging from wings to tacos.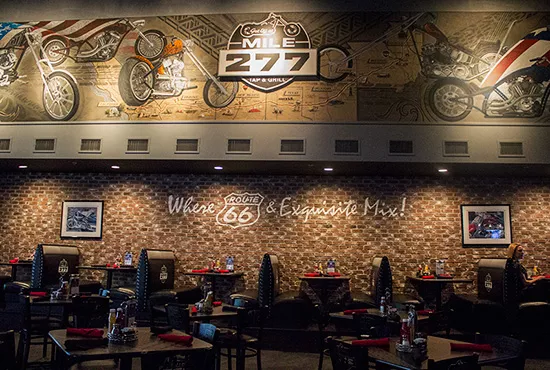 The Scene: Mile 277 isn't just a biker bar -- it's a full-out chopper-themed restaurant, complete with hand-painted murals on the wall and installments of said hogs, including the neon-pink-lit one that adorns the bar with the phrase "Putting WOW back in WOW!!!!" above it.
The Food: Seventeen appetizers is a lot to choose from, so we went with our gut on this one and tried the grilled portobello quesadilla, some potato skins and the house jumbo chicken wings. The quesadilla came out oozing with melted cheddar jack, filled with roasted corn and pico de gallo. Served with salsa and sour cream, it proved wholesome enough that we didn't even miss the meat (though carnivores can add chicken, seasoned beef, steak or shrimp).
The "Sturgis" potato skins also hit the mid-day hunger spot, appropriately portioned into manageable wedges and topped with all the fixins: pulled pork, cheddar cheese, green onion and barbecue sauce. My dining partner and I had to fight over the last bite.
Did Mile 277 make the grade? Find out on the next page.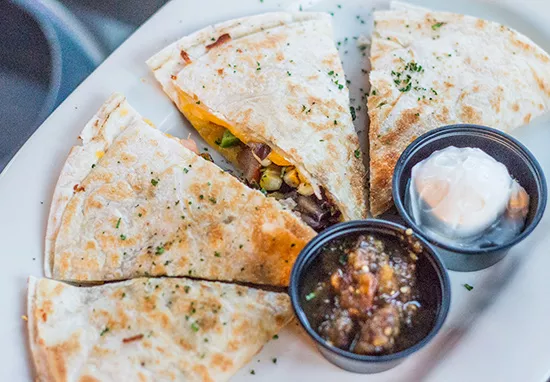 The Verdict: The term "biker bar" insinuates that visitors might face a somewhat intimidating environment full of weathered bikers from the road, but despite its previous references as a potential breastaurant, we found Mile 277 to be immaculately clean and spacious for everyday clientele. Different areas of the restaurant seem to cater to different crowd's moods, from the dimly lit bar to more family-friendly sections of tables and booths.
With an impressively expansive happy-hour time range, snack early and snack often. The one thing we'd steer clear from, however, is the baja-chipotle chicken wings. We're not sure what was in that sauce, but the strangely spiced ketchupy consistency was definitely the downside of our snacking trifecta. All the typical appetizer options could likely take its place, however. Choose from standards including fried mushrooms, pub pretzels, onion rings and more.
If classic rock, a taste of county culture and satisfactory appetizers sound like a good time to you, then by all means, rev up your happy-hour engines and let the good times roll.
The Rating: On a scale of one to five...
Previously on Happy Hour Handbook: - Sandrina's - Mangia Italiano - Kirkwood Station Brewing Company - Steve's Hot Dogs on the Hill
We're always looking for some more happy hour meal deals. E-mail the author at mabel.suen@riverfronttimes.com.