Welcome to Sugar High, a series devoted solely to spotlighting the best ways to sate a sweet tooth in St. Louis. We'll sample the best the city has to offer at restaurants, bakeries and holes-in-the-wall, and provide some insight on how these confections are made along the way.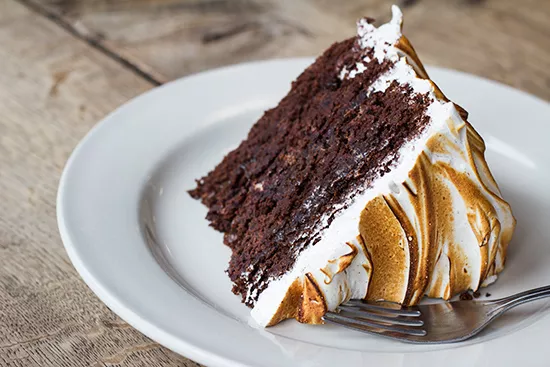 Photos by Mabel Suen
Chocolate layer cake with caramel sauce filling and toasted espresso meringue.
Winslow's Home's (7213 Delmar Boulevard, University City; 314-725-7559) takeout counter has an award-winning reputation -- and for good reason. Its trademark brisket sandwich provides a perfect grab-and-go lunch, but it's the counter full of sweets that makes it doubly worthwhile. Besides a selection of cookies and pastries, the restaurant also offers a cake of the month.
Husband-and-wife duo chef Wil Fernandez-Cruz and pastry chef Lisa Fernandez-Cruz recently joined the top of the ranks at Winslow's Home. Continuing its line of ready-to-eat treats while adding her own personal touch, Lisa Fernandez-Cruz offers up a delectable cake for April: chocolate cake with caramel filling and toasted espresso meringue.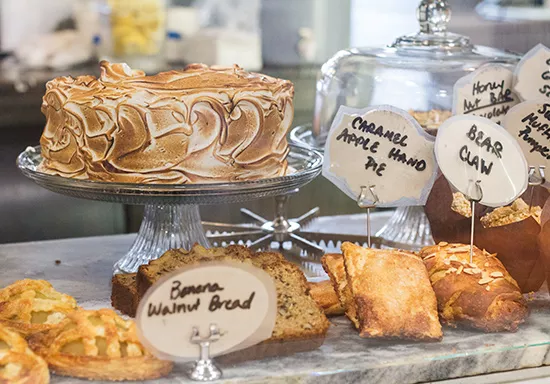 A native St. Louisan, Lisa Fernandez-Cruz studied at the Institute of Culinary Education, worked at the Savoy in New York and has since overseen baking programs at the Cheshire's restaurants as well as Gamlin Whiskey House. She hopes to expand on Winslow's Home's American-style homey and nostalgic offerings, bringing in some French influences.
"At my very first baking job, I was in charge of a counter that was almost exactly the same as the one here," she says, in regard to a cafe/clothing store called 202 in New York. "It's very fun to take what I started with ten years ago and do the same thing but with ten years' worth of knowledge. As much as I've enjoyed working in restaurants, I've been trying to find a way back to the bakery."
Pastry chef Lisa Fernandez-Cruz.
Fernandez-Cruz's latest creation really takes the cake, pairing perfectly with the restaurant's selection of coffee and tea. Dense chocolate cake meets salted caramel, topped with a bitter-tinged and sticky toasted espresso meringue to balance the indulgent flavors.
Going forward, expect a large-scale expansion of Winslow's Home's baking program -- nearly five times the size of what it is now, according to Fernandez-Cruz. The current counter will move to a larger space, taking special cake and pie orders and offering breads. Check in throughout spring for more seasonal desserts, featuring crops straight from the farm.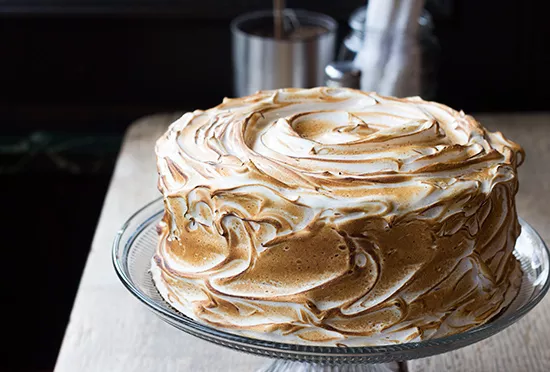 Get a piece this month while you can.
Previously on Sugar High: - La Patisserie Chouquette's Eclair - Black Bear Bakery's Raspberry Oat Bar - Gelateria's London Fog Gelato - 4 Seasons Bakery's German Cheesecake - Libertine's "Candy Bar" - Cleveland-Heath's Old Fashioned Cherry Pie - Schlafly Tap Room and Bottleworks' Sticky Toffee Pudding
We're always looking for some sweet ideas. E-mail the author at mabel.suen@riverfronttimes.com.