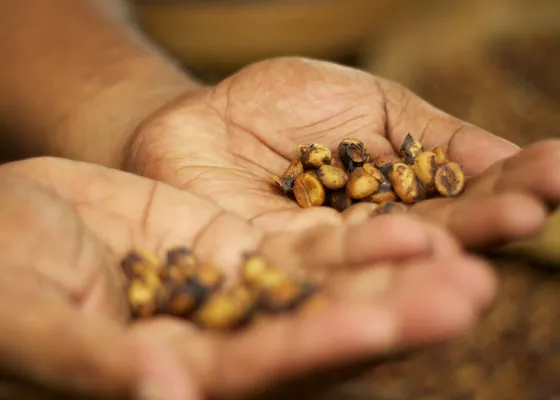 It's 7 a.m., you're still groggy, and you run into your favorite coffee shop to get a big, steaming cup of the good stuff. More than likely the barista can tell you just where those beans came from. But we bet a civet's poop wasn't the answer you were looking for. That's exactly what kopi luwak, or civet coffee, is. and it's now available at Cafe di Organo (1221 Locust Street; 314-678-2000).
See also: A Bite with Bitcoins: Local Food Businesses That Accept the Online Currency
Kopi luwak is made from beans that have been eaten and pooped out by the Asian palm civet, a small mammal that's sort of like a weasel or a mongoose. The civets' digestive tract ferments the beans. At Cafe di Organo, the beans are brewed using its usual siphon method.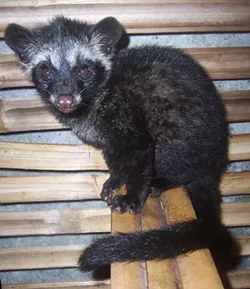 "People's reactions have been mixed. Some people like it, some people...not so much. It's not necessarily for everyone," Cafe di Organo barista J.C. Gatmaitan tells us. "It's an acquired taste."
Gatmaitan says kopi luwak is interesting because though the beans themselves are pretty dark, it produces a fairly light cup of coffee that is full-bodied but with very low acidity. Cafe di Organo wanted to offer something nobody else had. As far as we can tell, it's the only place in St. Louis you can get the specialty.
For obvious reasons, kopi luwak is pretty rare and very expensive -- a pound of beans can run upward of a few hundred dollars, so one "shot" of kopi luwak at Cafe di Organo is $15. There is a bit of an animal-rights problem, though. On some farms in Southeast Asia, the civets are confined in cages in pretty bad conditions. Even the guy who introduced kopi luwak to the West is now calling for a boycott of the unusual coffee.
Gatmaitan says not that many people have shelled out for the shot, but a lot of customers have sampled it. Cafe di Organo just added "the world's most expensive and rarest coffee" in March, but it will be on the menu for the foreseeable future. Let us know if you try it.
Gut Check is always hungry for tips and feedback. E-mail the author at nancy.stiles@riverfronttimes.com or follow her on Twitter.
---