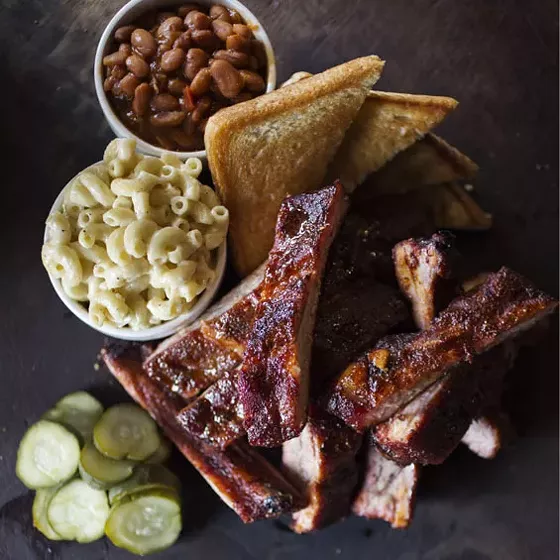 WildSmoke's baby back ribs | Jennifer Silverberg
Ten years ago, I had a hard time finding good barbecue in St. Louis, save for my uncle's backyard pork steaks enjoyed over a game of washers. Now, it seems like a week doesn't pass without a new addition to the smokehouse scene.
This week, I visit WildSmoke (12316 Olive Boulevard, Creve Coeur; 314-548-2222) to see if the owners Andy and Dee Dee Kohn (and pitmaster Anthony Collida) have made their vision for legitimate barbecue west of Lindbergh Boulevard a reality. Here is a sneak preview of my thoughts -- the full review will be online tomorrow and in this week's issue.
See Also: First Look: WildSmoke Piles On Smoked Meats and Country Kitsch in Creve Coeur
St. Louis could certainly be said to be super-saturated with barbecue places, but most of the great spots are decidedly east of Lindbergh Boulevard. Andy and Dee Dee Kohn noticed this void in the west county dining scene and set out to sate the carnivorous cravings of their suburban compatriots. The result of their efforts is WildSmoke, a fast casual barbecue restaurant that opened this January in Creve Coeur.

WildSmoke follows a formula similar to those of the big names in town, although the trip west took off some of the edge. As a result, it has the polish of a seasoned chain restaurant: leather booths with cowhide fabric, western-themed tchotchkes on the walls, track lighting and plasma televisions. Character is replaced with kitsch, but -- like my city friends who envy the county's sprawling backyards -- a part of me appreciated the creature comforts (there is something to be said for watching the NCAA Tournament on a gigantic television).
Follow Cheryl Baehr on Twitter at @CherylABaehr. E-mail the author at Cheryl.Baehr@RiverfrontTimes.com.
---