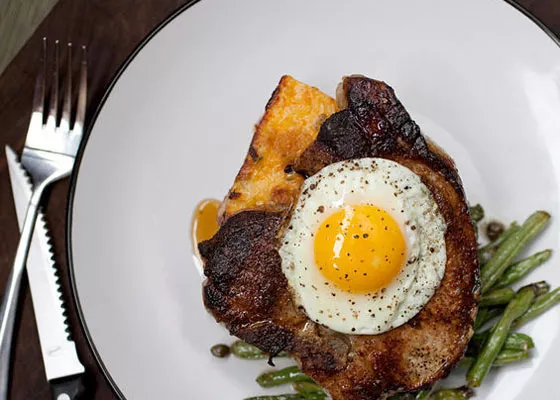 The Berkshire Pork Porterhouse at Cleveland-Heath. | Jennifer Silverberg
Here we are, at the last weekend of March, and hardly a sign of spring in sight. Temperatures should be fairly reasonable -- no snow, at least -- so get out and chow down. Sample wines made by women, learn to grow fruit trees or check out the scene in Edwardsville. Check out our food-related recommendations after the jump.
See also: UPDATED Fish Fry Frenzy: A Gut Check Guide
Friday (Mar. 28)
Single Malt Scotch and Artisan Cheese Tasting @ Vom Fass
Cheese impresario Barrie Lynn has paired five cheeses and scotches for an unforgettable tasting. Try pairings like rosemary asiago cheese with Bowmore 22-year-old scotch. From 6 to 8 p.m. Tickets are $55. Call 314-932-5262 or stop by the shop for information.
Toast to Spring @ Ruth's Chris Steakhouse
Cold weather be damned, it is spring! Sample 36 wines from places like Conn Creek, Jordan, Stag's Leap and more. Buy your favorite bottles and snack on complimentary apps from Ruth's Chris. Toast to Spring benefits Always Brothers, which helps the families of soldiers killed on duty. 6 to 9 p.m. Tickets are $35; call 314-259-3200.
Saturday (Mar. 29)
Grand Opening @ Pimped Out Pickles
While the storefront has been open for about a month, Michelle Latchison Turner and her family haven't had time to fete the occasion -- until now. The all-day festivities start with a ribbon cutting by Alderman Samuel Moore. Anyone unfamiliar with POP or unsure of their outrageous sounding pickle flavors (like "All Pimped Out!," "Sex on the Beach," and "Ooh La La!") will get to test drive before buying -- all 50 flavors will be available for sample. Event goes from 10 a.m. to 5 p.m. and is free.
Fruit Tree Seminar @ Eckert's Country Store
Believe it or not, you really can grow your own apple trees. The experience orchard staff at Eckert's will help you plant the right type of trees for Missouri weather and care for it in the first few years. You can also get some yummy jams and jellies made from Eckert's own fruit trees. Noon to 2 p.m. Admission is free.
March MEDness: Mediterranean Hobnob & Kebab @ Parker's Table
March Madness is really more interesting when it involves food and wine, in our opinion. Fill your "passport" with Italian wines and Lebanese foods from wine exporter Colleen McKetrick and chef Salma Elkott, respectively. Noon to 3 p.m. $10 per person, available at the door.
Taste of Edwardsville @ the Leclaire Room at RE/MAX Integrity Party Tent
Edwardsville is quickly developing a culinary scene of its own. Find out what all the fuss is about at this fundraiser for Edwardsville Neighbors in Need. Try unlimited samples from Edwardsville anchors like Cleveland-Heath, Peel Wood Fire Pizza, Mike Shannon's Grill, Robust, Brevan's Patisserie and more. There will be beer and wine, of course, and live music from the Well Hungarians. Other fundraisers include raffles and auctions. From 7 to 11 p.m. Tickets are $75; call 618-520-7467 or email kopel@edwardsvilleneighborsinneed.org.
Drink Like a Lady Cocktail Party @ Let's Clink
Taste wines produced by female vintners at Classique, plus cocktails crafted by Beth Sorrell and Layla Lineham. You'll also snack on bites from Modesto Tapas. Modesto's Brendan Marsden also co-owns Let's Clink, a company that delivers gift-ready wine boxes for almost any occasion. From 5 to 9 p.m. Tickets are $18, all inclusive. Call 314-485-9540 or visit letsclink.com.
Sunday (Mar. 30)
Sunday Brunch @ Chaumette Vineyards
Chaumette is well-known for its Sunday suppers, but brunch service debuted last week at the Grapevine Grill. Chef Adam Lambay will offer a different menu each week, plus staples like scrambled eggs, croissants and biscuits, sausage, and quiche. This week, the feature dish is grilled steak maison with grilled asparagus and pan-fried potatoes. Brunch is $20 per person, $10 for kids. Reservations are required; call 573-747-1000.
Gut Check is always hungry for tips and feedback. E-mail the author at nancy.stiles@riverfronttimes.com or follow her on Twitter.
---