Photos by Mabel Suen
"Tempeh Reuben."
Last month, Seedz Cafe (6344 South Rosebury; 314-725-7333) opened in the DeMun neighborhood with a menu of organic, plant-based food and drinks. The 700-square-foot space contains a kitchen that creates vegan scratch-made food, a seating area for around twenty guests to dine-in and outdoor seating when weather permits.
"People are looking for something gratifying or tasty, but we pay attention to how it reacts with physiology and our state of well-being," says co-owner Monty Gralnick. "We offer a preventative, holistic approach to living with delicious food. We're doing our best to provide a resource for that."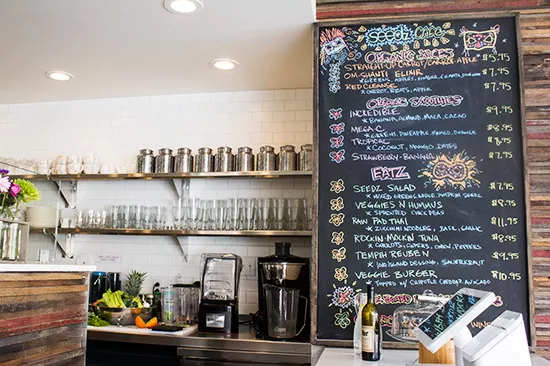 The minimalist, contemporary cafe is a collaboration between Gralnick -- who lived in the neighborhood as a child -- and his partner, Cara Schloss. Both have backgrounds in health and wellness as well as a passion for nutrition. Schloss has experience working at Whole Foods Market as a buyer in the "Whole Body" department specializing in supplements, herbs and superfoods.
Seedz Cafe gets its name from Shel Silverstein's The Giving Tree as well as the inclusion of sprouted seeds and more in the cafe's offerings. The menu features fresh juice blends, smoothies and vegan-friendly dishes such as "Rawvioli," organic sliced beets marinated and filled with macadamia and pine nut pesto. Gralnick recommends the "Tempeh Reuben" with local organic tempeh, live sauerkraut, seasoned veggies and spicy vegan dressing on a sprouted wrap. Gluten-free alternatives are also available.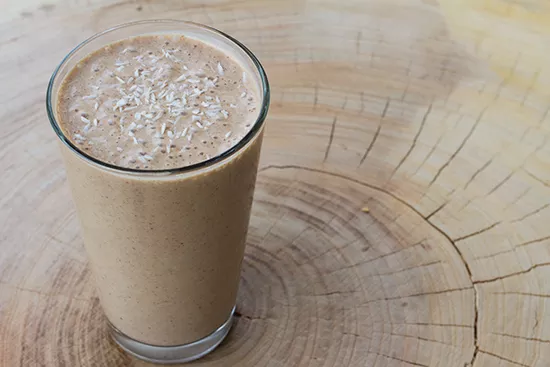 "Incredible" smoothie with banana, almond, maca and cacao.
Seedz Cafe also offers house-brewed beer made with all-organic ingredients -- from the hops and grains to the malts -- in small batches to match the season. Belgian blonde ale is currently available on draft. Look for varieties such as Pale Ale and Belgian wheat in coming months.
Seedz Cafe's current hours are Tuesday through Saturday from 11 a.m. to 8 p.m. and Sunday from 11 a.m. to 4 p.m. For more information, check out the Seedz Cafe website or follow it on Facebook.
Click through for more photos.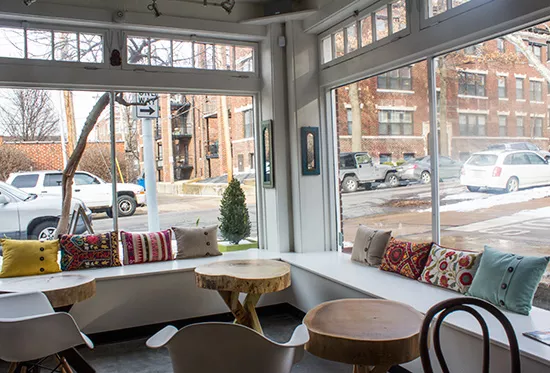 Seating area by the windows.
Raw dessert bites -- cacao brownie and maca macaroon.
A display at the entrance.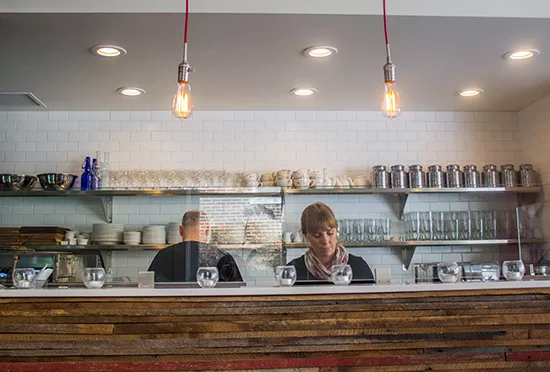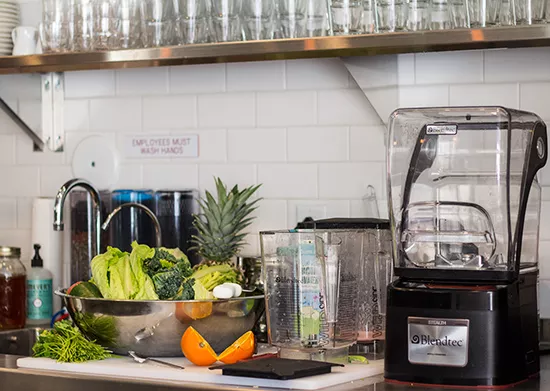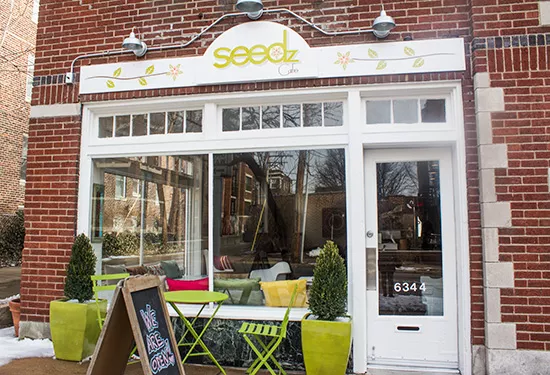 Now open in the DeMun neighborhood.
See also: - First Look: The Good Pie - First Look: Pharaoh's Donuts - First Look: Magnolia Cafe - First Look: Urban Chestnut
Gut Check is always hungry for tips. E-mail us!