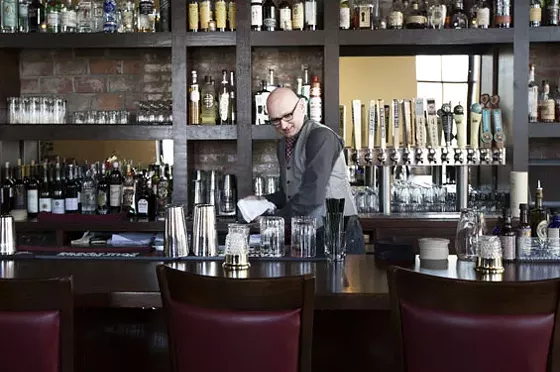 Planter's House co-owner Ted Kilgore | Jennifer Silverberg
There was a time when Ted Kilgore nearly ruined his sense of smell. "I used to work for an industrial perfume company," Kilgore says. "It was a small company, and I worked my way up to research and development. By the time I left, I had a heightened sense of smell -- a hyper-sensitivity. I could smell things 40 feet away."
The transition from the perfume industry to bartending was actually fairly easy for Kilgore. "There were these 55 gallon drums [at the perfume factory], and I had all of the formulas committed to memory. When I made the switch to bartending, I was still working with liquids and formulas, memorizing the recipes."
See also: Planter's House is built on a foundation of mixology magic
When I spoke with Kilgore, he was hard at work concocting a new crop of seasonal cocktails for Planter's House (1000 Mississippi Avenue; 314-696-6203), the Lafayette Square bar and restaurant he owns with his wife Jamie and business partner, Ted Charak.
"People approach things differently," Kilgore says about his process. "I tend to be very organic. I start with the season and am inspired from there. People usually think of lighter spirits for spring and summer, but I'm a classic whiskey guy. I look for ways to lighten those up for spring -- like the "Old But Still in Fashion," I'm swapping out the dry curacao for apricot cordial."
The godfather of St. Louis mixology also dished on some of his new concoctions. He is working on something tentatively called the "Sundecker," a Hendricks gin based drink made with chamomile, cucumber and Milagro Reposado tequila. "It's like a Vienna pickle," Kilgore explains. "Reposado tequila is aged in oak, and oak imparts a dill flavor to the tequila. I just connect the dots."
Kilgore is also inspired by the dishes that come out of the Planter's House kitchen, especially the pastries. "Our pastry chef has been making jams and syrups, like blueberry, so there are going to be a lot of fruit elements. For winter, it was a lot of raspberry, blackberry and dark fruits, but it will be more tropical flavors for spring and summer." He is also toying around with putting a tiki and daiquiri section on the menu. "Daiquiris are one of my favorites for summer," he says.
The possibilities for different combinations seems endless, and I wondered how Kilgore is able to zero in on his new recipes. "When I first started, I used to play around with bottles, but now I write out formulas and end up just having to tweak them," he explains. "I'm traditional and think that all cocktails are rooted in the classics. There are a few main formulas. Once you have those mastered, you just plug in different flavors." Kilgore also relies heavily on two books: Culinary Artistry and the Flavor Bible. "It's about committing flavors to memory. When I took my test [the Bar Alcohol Resource Program certification] in New York, I went out to the market and bought all different types of things, fruit and candy and nuts. And I tasted and smelled it all the morning of the test. I had to write out two-page tasting profiles on different drinks; it was intense."
Follow Cheryl Baehr on Twitter at @CherylABaehr. E-mail the author at Cheryl.Baehr@RiverfrontTimes.com.
---