Photos by Mabel Suen
Sandrina's jumbo crab cake.
The Place: Sandrina's (5098 Arsenal Street; 314-601-3456)
The Hours: Happy hour is offered Monday through Friday from 4 to 7 p.m., and specials run all night on Tuesday.
The Deal: A discounted and varied selection of half- and full-size appetizers. $1 off draft beers as well as discounted domestic bottles, cans, well drinks and wine. Additional daily specials are: Guinness and Jameson specials on Monday, Schlafly specials on Wednesday, PBR and Stag specials on Thursday.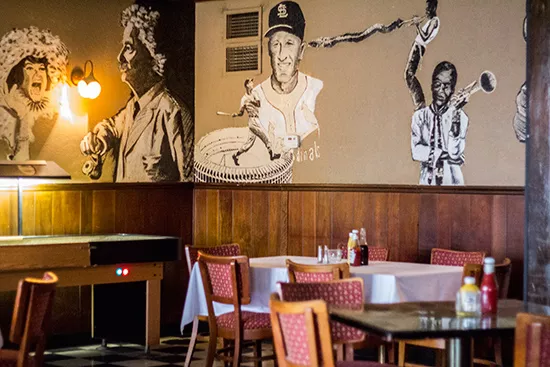 A corner of the dining room.
The Scene: Located on the corner of Arsenal Street and Brannon Avenue, Sandrina's is housed in a 19th-century building. Its bar side features an extensive selection of beers, spirits and liquors, and the dining room houses a few booths, tables and a shuffleboard table. Its vintage-style decor includes boasts wood-paneled walls, black-and-white checkered floors and murals of St. Louis figures.
The Food: Happy-hour appetizers include discounted full-size portions of fried snacks including fries, onion rings and pub chips topped with Parmesan. Smaller portions of appetizers are also available at a reduced price, including ravioli (six to an order instead of the usual ten), Gus' Pretzels and jumbo crab cakes with roasted red pepper sauce (sold individually instead of in a set).
Did Sandrina's make the grade? Find out on the next page.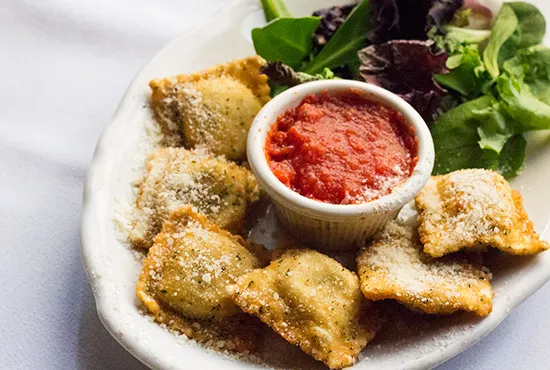 The Verdict: The jumbled happy-hour selection, verbalized by staff rather than written on a separate menu, proved somewhat confusing. All in all, the food options came off as decidedly average. The crab cake, while enormous, left a little something to be desired (as most crab dishes conjured in the landlocked Midwest do). However, we appreciated the vegetarian variation on "fried ravioli," stuffed with a mixture of spinach and artichoke.
Pub chips with a side of smoked gouda sauce.
Our friendly server, who also tended bar simultaneously during what seemed to be a typically slow time frame of the day for Sandrina's, kindly brought out a complimentary order of the house smoked-gouda sauce to accompany our pub chips. The menu instructs patrons to "TRY OUR FAMOUS SMOKED GOUDA SAUCE," and we're glad they insisted. The creamy, warm dip proved comforting and delicious.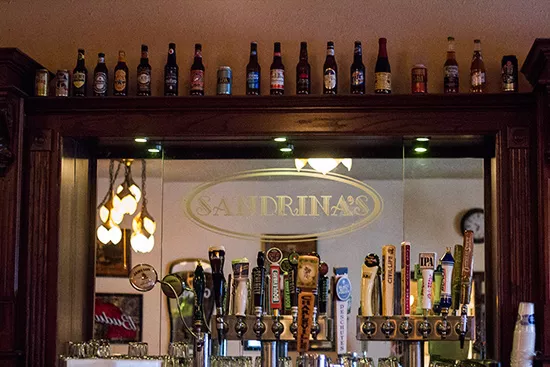 The congenial service and the free cheese made it worth the trip, but the generic happy-hour appetizer selection wouldn't be enough to lure us back. Instead, you'll find us occupying Sandrina's for some after-hours drinking and dining. The dim, divey ambiance and lengthy regular menu lends much better to late-night dining and cavorting till 3 a.m.
The Rating: On a scale of one to five...

Previously on Happy Hour Handbook: - Mangia Italiano - Kirkwood Station Brewing Company - Steve's Hot Dogs on the Hill
We're always looking for some more happy hour meal deals. E-mail the author at mabel.suen@riverfronttimes.com.