Welcome to Sugar High, a series devoted solely to spotlighting the best ways to sate a sweet tooth in St. Louis. We'll sample the best the city has to offer at restaurants, bakeries and holes-in-the-wall, and provide some insight on how these confections are made along the way.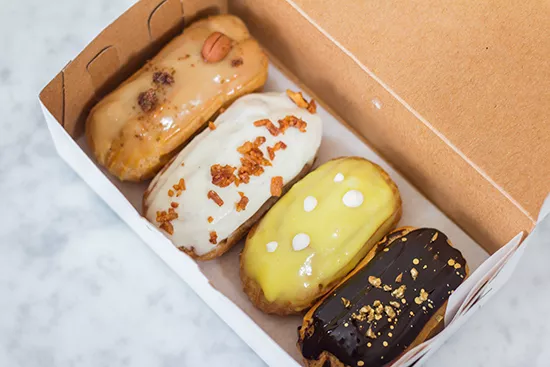 Photos by Mabel Suen
Miniature versions of Simone Faure's spring eclair line: iced coffee, maple bacon, lemon meringue and "Gold Digger."
From its picture-perfect macarons to its inventively flavored, impossibly flaky croissants, La Patisserie Chouquette (1626 Tower Grove Avenue; 314-932-7935) demonstrates time and time again how it already managed to earn the RFT Best of St. Louis title of Best Bakery in St. Louis in its first year of business. Gut Check would be remiss, however, without stopping for a moment to recognize one of the things that makes it all possible: pastry chef Simone Faure's infatuation with her patisserie's namesake choux.
See also: Gut Check's 100 Favorite Dishes: #95: Macarons at La Patisserie Chouquette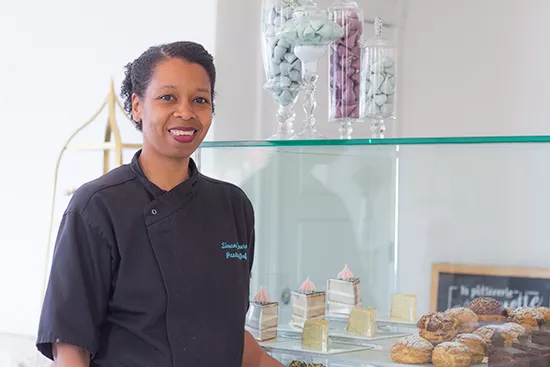 Pastry chef Simone Faure.
Choux pastry, an essential dough in any professional baker's repertoire -- generally made out of butter, water, eggs and flour -- gets its light and airy texture from steam created during the baking process. The pastry shells appear on the marble counters at Chouquette regularly in a variety of forms. Take, for instance, the "Choux Du Jour," a cookie-topped cream puff of sorts that gets filled with a different flavored pastry cream each day.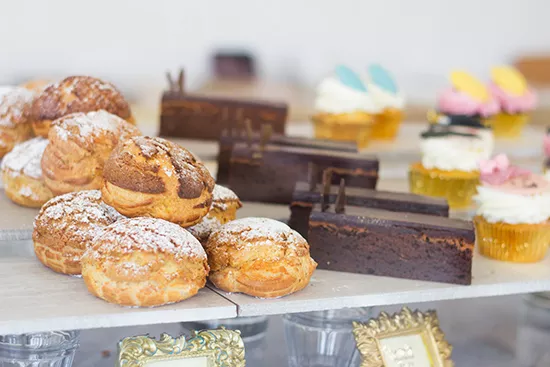 The "Choux du jour" alongside assorted desserts.
Most recently, Faure featured her choux in the first of a designer-style line of eclairs. The spring collection of eclairs, called the "D'Eclairation" line, features lemon meringue, iced coffee, maple bacon, "Gold Digger" and mojito flavors. Look for featured flavors during the week and the entire collection on Saturdays.
"Eclairs for me are the French equivalent of doughnuts, only better," says Faure. "Creamy, custardy, rich fillings are what fill my dreams. Literally!"
Offset that sugar high with "Chouxnami," mini torpedo puffs stuffed with smoked meats, creamy herbed cheese spreads and veggies..
Previously on Sugar High: - Black Bear Bakery's Raspberry Oat Bar - Gelateria's London Fog Gelato - 4 Seasons Bakery's German Cheesecake - Libertine's "Candy Bar" - Cleveland-Heath's Old Fashioned Cherry Pie - Schlafly Tap Room and Bottleworks' Sticky Toffee Pudding
We're always looking for some sweet ideas. E-mail the author at mabel.suen@riverfronttimes.com.