Chefs Brian Coltrain and John Perkins cheers with the secret ingredient, Stella Artois. | Micah Usher
One of the best parts of Iron Fork is the competition. Chefs and bartenders from some of our favorite restaurants battled for supremacy. Returning champ Ed Heath of Cleveland Heath took on challengers John Perkins of Juniper, Colleen Clawson of Standard Fare and Brian Coltrain of Element. The competitors had to create a dish featuring beef liver and were given the secret ingredient, Stella Artois, right before the competition began.
See also: The Food of Iron Fork 2014
Chef Ed Heath, with RFT editor-in-chief Chad Garrison, presents his dish to the judges. | Micah Usher
Everyone kept their cool throughout the hour of cooking time, though there was some understandable scrambling to finish up the dishes as the clock neared zero. The chefs then presented their dishes to the four judges (including our own Cheryl Baehr) and explained how they used Stella in the dish.
Chef Colleen Clawson hard at work. | Micah Usher
Clawson had breaded and seared pieces of liver, Asian-style julienne mixed vegetables with a Stella sauce. Heath served liver over spicy tandoori paste and used the Stella to make couscous. Coltrain made silky, simply seared liver and a liver and Stella mousse. Perkins offered liver panzanella salad and made his own flatbread and bacon-fat vinaigrette, plus lots of citrus that made the plate bright.
The judges scored each dish independently, but in the end the decision was unanimous in favor of John Perkins. Baehr tells us that the point spread for all four dishes was very tight, though.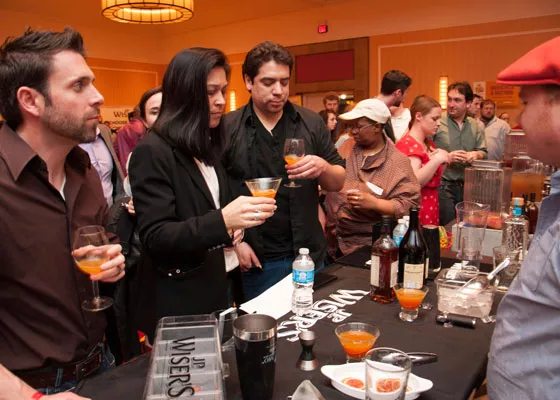 The cocktail judges sip an entry. | Micah Usher
For the cocktail competition, Chris Wheeler of Prasino, Keyan Still of Sanctuaria, Dustin Parres of Gamlin Whiskey House, Keeley McGrew and Miles Ray of HandleBar and Brittany Van Hook of Table Three mixed up drinks for three judges, including RFT staff writer Ray Downs.
Van Hook won with her Spicy Watermelon Margerita. She flambeed the watermelon and mashed it up with home-grown mint and her own jalapeno simple syrup. Check out the Iron Fork slideshow here.
Keeley McGrew of HandleBar. | Micah Usher
Gut Check is always hungry for tips and feedback. E-mail the author at nancy.stiles@riverfronttimes.com or follow her on Twitter.
---