Chardonel, left, and Chambourcin jelly. | Nancy Stiles
We've heard of water turning into wine, sure. But what about wine into jelly? That's exactly what chef Adam Lambay at Chaumette Vineyards (24345 State Route WW, Ste. Genevieve; 573-747-1000) has been doing.
See also: Home Wine Kitchen Pairs With Chaumette Winery
"Why? Simply because, why not?" Lambay tells us. "I thought, 'We have juice -- I can make jelly that is quite unique.' So, why not?" Lambay keeps the jellies down with all sorts of other housemade canned goodies, like pickles and tomato sauce.
We tried the standard Concord grape jelly (Concord grapes aren't used to make wine, though), as well as the late harvest Chardonel, which had a zesty orange color, and the Chambourcin, which Lambay calls the Rose because of its pinkish hue.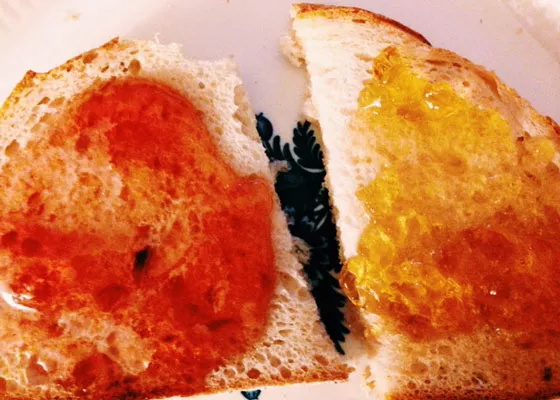 The jellies on sourdough toast. | Nancy Stiles
"The Chardonel is made from wine, not juice, which gives it a tangy zip like marmalade," he says. This was definitely the most winelike out of the three. The Chambourcin was much fruitier.
"It's made from the Chambourcin grape juice, not wine, so it's bright and strawberrylike in flavor," Lambay says.
The idea for the jellies really came out of the winery's rental villas. When you stay in a villa and order a breakfast tray, you get a jar of jelly to take home. That's incentive enough for us.
From the kitchen at Chaumette. | Nancy Stiles
Gut Check is always hungry for tips and feedback. E-mail the author at nancy.stiles@riverfronttimes.com or follow her on Twitter.
---