All hail, Big Pimp Pickle. | Jessica Lussenhop
Update: We finally connected with the brains behind the business, owner Michelle Latchison Turner. Updated with the story behind the pickles and how she came up with the name.
As soon as Gut Check heard news that a business called Pimped Out Pickles (4259 Martin Luther King Drive, 314-401-1807) just opened its first brick-and-mortar store two weeks ago, we grabbed our coat and ran out the door.
There inside the tiny storefront we met Finess and Bart Latchison, two brothers who run the business with their mom, Michelle Turner.
"She started selling them, and it really took off to the point where she could really be doing something with it," says Finess. "I never would have guessed there's so many pickle lovers."
See also: Strange Donuts Announces Plans for Second Location
Finess and Bart Latchison in front of Pimped Out Pickles. | Jessica Lussenhop
Finess says his mom started the business about a year ago. She set up a vendor's booth outside of the ALDI on the corner of North Grand Boulevard and Natural Bridge Avenue, and soon the Latchisons were being asked to come to block parties, job fairs, colleges -- even weddings. Two weeks ago, Pimped Out Pickles opened its doors, and Finess says they're slowly trying to encourage their regulars at ALDI to come to the shop instead.
"It kind of got a nice little following," he says.
Update: Before she got into the pickle business, Michelle ran a childcare center which she says was slowly losing business.
"Honestly, I began to pray, 'Lord just make provisions for me, so I can be able to live -- a place to stay and pay my mortgage,'" she recalls. "I just came up with the idea. I love pickles. I decided, 'I'm going to try to see if other people love them the way I do.'"
The pickles. | Jessica Lussenhop
Michelle says she remembered "back in the day" when people used to flavor jars of pickles by dropping peppermints and Red Hots into the jars. She already made her own fruit-flavored pickles at home and figured she could produce a whole line. All she needed was a name. And it had to pop. She says the name was inspired by the TV series Pimp My Ride -- this would be like pimping out pickles.
"I won't ever sell just a regular pickle," she promises.
Michelle clearly has good marketing skills. The Latchisons' pickles are branded...memorably. There's the "Haterade," the "All Pimped Out," the "Flava Flav" and the "Oops, There It Is!" Finess says each of them have a signature pickle recipe they came up with themselves -- his is the "Sex On the Beach," a tropical-flavored pickle made with coconut and peach flavoring. Turner and her sons invented all the varieties, which include special seasonals.
Here's the full menu:
All Pimped Out!
Sweet-n-Spicy
Sweet-n-Sour
Volcano
Red Hots
Hot Peppermint
Peppermint
Tropical Punch
Hot Tropical Punch
Flava-Flav
Big Poppa
Pick-a-Low
Sweet Garlic
Hot Sweet Garlic
Hottie
Hot Sweet-n-Sour
"Ole" School
Lemon
Strawberry
Bet-U-Like
Ooh La La
This Right Here!
Magic Touch
Pink Lemonade
Haterade
Sweetness
Oops, There It Is!
Orange Limeade
Cherry Limeade
Pick-O-Licious
Pineapple
Watermelon
Sex On the Beach
Pimp-Juice
Peach Me
I-Candy
Sugar Momma
Blue Raspberry Jolly Rancher
Green Apple Jolly Rancher
Watermelon Jolly Rancher
Cherry Jolly Rancher
Grape Jolly Rancher
Mixed Jolly Rancher
HO! HO! HO! (Christmas)
Sweet Heart (Valentines Day)
Happy Easter (Easter)
BAM!! (Independence Day)
Trick-r-Treat (Halloween)
Salute (Veterans Day)
Thankfulness (Thanksgiving)
Pick your pickle poison. | Jessica Lussenhop
More photos after the jump. And also: what does a "Pimpjuice" pickle taste like, exactly?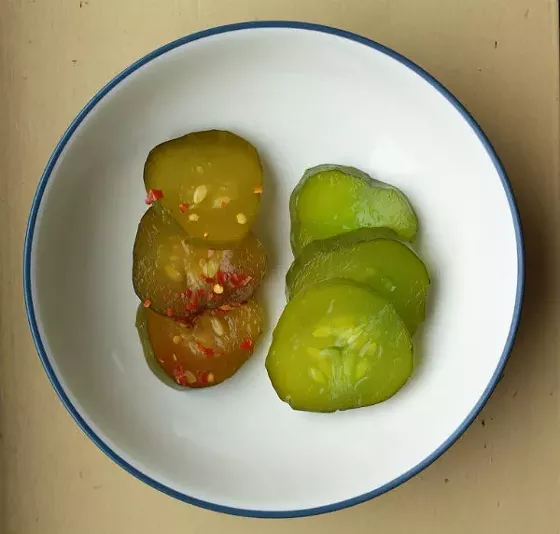 On the left, "Spicy-n-Sweet," on the right, "Green Apple." | Jessica Lussenhop
On the brothers' recommendation, Gut Check picked up the best-selling "Sweet-n-Spicy," the "Pimpjuice" and the "Green Apple Jolly Rancher" pickles ($5 plus tax for a quart of slices) and brought them back to headquarters. "Pimpjuice" pickles have a predominantly peach flavor in with the briny vinegar, the "Green Apple" were milder than their neon green color seemed to indicate, but our clear favorite were the "Sweet-n-Spicy" -- they had a warm kick that cleared the sinuses and counterbalanced the sweetness. All three were crisp and delightful. Now we're dying to know what a hot-peppermint pickle tastes like.
In a bit of a pickle. | Jessica Lussenhop
Finess says they're hoping to continue growing Pimped Out Pickles. He recently had a call from someone in Arizona asking for a wholesale order, but says they're just not equipped to fulfill those kinds of requests yet.
"It's definitely something I'm considering in the future," he says.
Michelle says she's gotten a ton of interest from all over and hopes she can find an investor who'll finance an expansion of the business.
"People are telling me they're coming here from out of town and everything. I would love to get a North County location. It really is beginning to grow and get noticed. I do have plans," she says. "It's fun and I have so much fun doing it."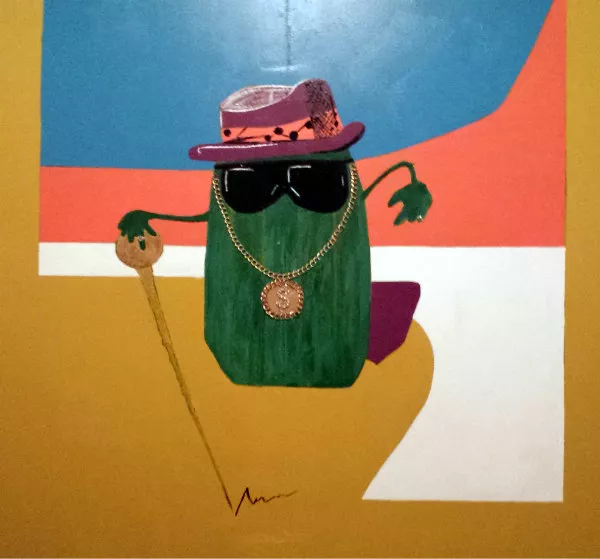 There he is again. | Jessica Lussenhop
Pimped Out Pickles is open Monday through Saturday from 9 a.m. to 6 p.m. Check out its Facebook page here. If you're planning to stop by this week, bring cash. Its credit-card machine isn't fully operational yet.
Hat tip to local Redditor bigmapblog, whose visit to Pimped Out Pickles inspired ours.
A girl pickle can be a pimp, too. | Jessica Lussenhop
Follow Jessica Lussenhop on Twitter at @Lussenpop. E-mail the author at Jessica.Lussenhop@RiverfrontTimes.com.