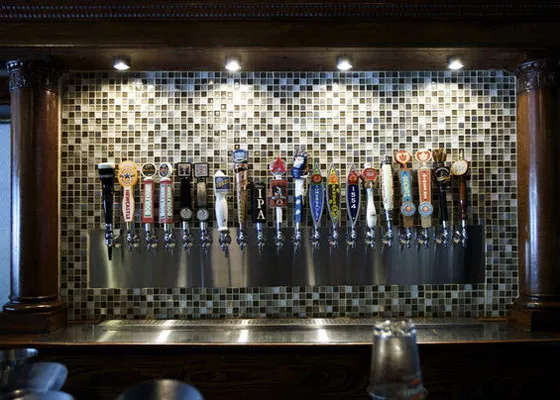 The taps at Three Kings. | Jennifer Silverberg
Three Kings Public House (6307 Delmar Boulevard; University City; 314-721-3355) is known for its revolving taps and twist on pub fare in the Loop. Owners Derek Deaver, Derek Fleig and Ryan Pinkston announced this week that they'll be opening a second location of the University City favorite in the former Mosaic space in Des Peres.
See also: The Best Dog-Friendly Restaurant Patios in St. Louis
Mosaic closed in September; Deaver tells us the modern interior will be almost totally rehabbed to give it more of a Three Kings feel with rustic brick and pine floors. The menu will be about 80 percent the same as the original, but the new Three Kings will have 28 taps instead of 22 and a healthier kids' menu.
Deaver says they looked at several areas, including the Central West End, before snagging the West County space. For a while, the team was eyeing the now-empty Ziezo storefront, just a few blocks from Three Kings in the Loop. Deaver says it would have been a Southern-style restaurant, but the Mosaic location was too good to pass up.
"I always wanted to open up one more of these. I've got a bunch of friends that opened restaurants in West County," Deaver says. "I know what numbers they're doing out there. I grew up in that area -- everyone goes out to eat."
The Southern restaurant in the Loop may still happen if the spot is still available after Three Kings number two is up and running, but Deaver says he'll be spending the next four to five months focused on that. The opening date as of now is June 15.
"There's an iTap out in the Valley, but there's really no one doing the craft beer and rotating taps and the beer dinners," he says. "I think everyone goes to places like that but no one is doing it out there, so I'm excited."
Gut Check is always hungry for tips and feedback. E-mail the author at nancy.stiles@riverfronttimes.com or follow her on Twitter.
---