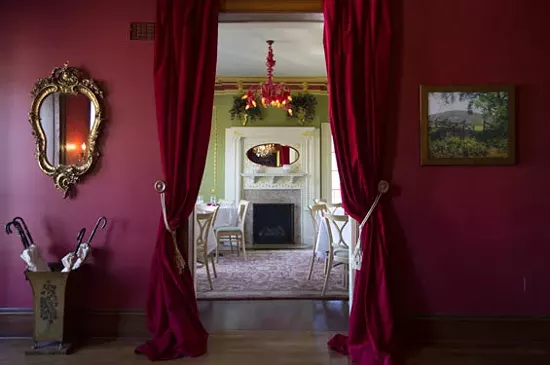 The front dining room at Nathalie's | Jennifer Silverberg
As I child, I loved the story of the Town Mouse and the Country Mouse and would often wonder which life I'd choose: that of the bustling cosmopolitan city or the tranquil countryside. Nathalie Pettus doesn't feel the need to make this choice. The Overlook Farm owner lives out both roles as the proprietor of the swanky Nathalie's (4356 Lindell Boulevard; 314-533-1580), her farm-to-table restaurant in the Central West End. Located in the stunning 19th century mansion that formerly housed both Savor and Salt, Nathalie's is her showroom for the bounty of her Clarksville, Missouri farm. And to think some settle for a booth at a farmers' market.
Here is a sneak preview of my thoughts -- the full review will be online tomorrow and in this week's issue.
See Also: UPDATED: Fire at Overlook Farm Burns Restaurant "To the Ground"
"Bob Weir is coming in for dinner next week," our server informed us. "Seriously. Jimmy used to tour with the Dead. He was their chef."

A Deadhead isn't exactly who comes to mind when casting an executive chef for Nathalie's; the luxe digs are decidedly more silk brocade than tie-dye. Then again, Nathalie's is much more than a fancy restaurant in a swanky mansion. It's actually the luxury vehicle by which the eponymous Nathalie Pettus brings the bounty of her Overlook Farm to town. And Jimmy? That's Jimmy Voss, the culinary Renaissance man who toured with the Dead as their personal chef, ran the kitchen at the shuttered Central West End institution Duff's, and, to date, serves as the executive chef at Overlook Farm in Clarksville, Missouri.

A hippie chef at a farm-to-table restaurant -- now it makes sense.

Hyper-local cuisine is the restaurant trend du jour, and local chefs' commitment to the movement ranges from lip-service to substantial local sourcing. Nathalie's raises the concept to the next level, with most of the food coming directly from Overlook, hand-selected by Pettus and Voss. The result is an ultra seasonal menu and plates filled with a cornucopia of vegetables, minus the middleman.
Follow Cheryl Baehr on Twitter at @CherylABaehr. E-mail the author at Cheryl.Baehr@RiverfrontTimes.com.
---