Welcome to Sugar High, a series devoted solely to spotlighting the best ways to sate a sweet tooth in St. Louis. We'll sample the best the city has to offer at restaurants, bakeries and holes-in-the-wall, and provide some insight on how these confections are made along the way.
Photos by Mabel Suen
Raspberry oat bars.
Sometimes, Gut Check just needs something we can really sink our sweet tooth into, and Black Bear Bakery (2639 Cherokee Street; 314-771-2236) provides with its satisfyingly toothsome raspberry oat bars. Pretty pink berry filling cuts through a crumbly, chewy cookie base made with rich, all natural ingredients -- a simple, wholesome baked good worth getting your paws on.
The basic recipe, developed by former long-term baker and Black Bear Bakery member bobEE Sweet, began with an oatmeal cookie dough inspired by The Joy of Cooking. Butter and brown sugar provide body to the bar, oats define the texture and whole wheat pastry flour lends a warm, nutty flavor to it all.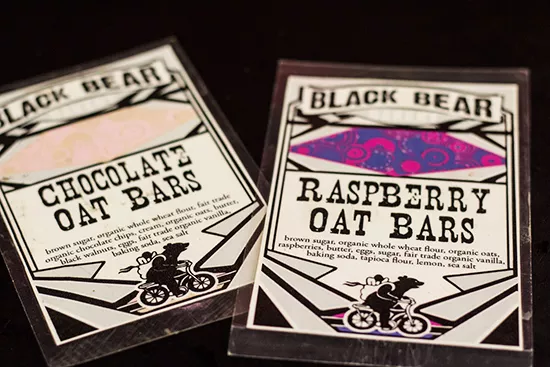 The hearty dough gets pressed into the bottom of a cake pan, drizzled heavy-handedly with jam-like raspberry filling and topped with more of the cookie mixture, resulting in a crumb-like finish.
Not a fan of raspberry? Not to worry: the bars also come in a chocolate and walnut flavor, though it's a bit more decadent due to the lack of tartness that makes up its fruity counterpart. Torn between the two? Consider Black Bear's cranberry walnut cookies, another offshoot from Sweet's successful experiments that will hopefully get passed on for generations of Black Bear bakers to come.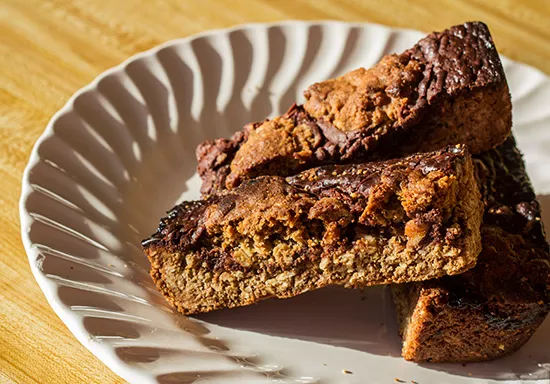 Also available in chocolate.
Previously on Sugar High: - Gelateria's London Fog Gelato - 4 Seasons Bakery's German Cheesecake - Libertine's "Candy Bar" - Cleveland-Heath's Old Fashioned Cherry Pie - Schlafly Tap Room and Bottleworks' Sticky Toffee Pudding
We're always looking for some sweet ideas. E-mail the author at mabel.suen@riverfronttimes.com.