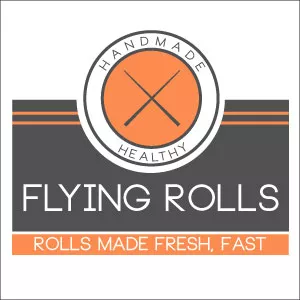 Sushi tends to have two varieties: expensive, or take-out. Flying Rolls hopes to change that with its new fast casual restaurant in Midtown, at 3674 Forest Park Avenue. We talked to co-owner David Culver about making sushi accessible and getting St. Louis to eat healthy.
See also: The Five Best Sushi Restaurants in St. Louis
"The concept is a lot like Chipotle, where we're going to be fast casual, serving really high quality foods but fast, so that we can cater to anyone from a student to a businessman," Culver says. "We're really trying to emphasize rolls rather than sushi, so we can break down barriers there and get people interested in this genre of food."
Culver is running the business side with his friend Clayton Park, while Andrew Impagliazzo, a restaurant industry veteran, will take care of the food. There will also be a catering side of the restaurant.
"St. Louis is bubbling over right now with business and development, and I think the catering side of the restaurant will introduce a food that people normally find on the coasts, here in the Midwest." Culver says.
He says that a meal already costs enough, and usually sushi is pretty high end, which is a barrier for entry for many people. Flying Rolls will also be focused on new technology and a clean user experience. There will be online ordering for catering, plus touch screen kiosks in the restaurant if you don't want to wait in line. Culver and his partners are aiming for a June 1 opening date.
"The company name is Flying Rolls, and it's specifically that because if you don't like sushi, you can still find things you like in our restaurant. If you don't like raw fish, there's an option for you to cook it," Culver says. "If you don't like fish or seafood at all, were have chicken and beef options to roll up. I think it's going to rival the sandwich market here and I'm really excited to see St. Louis take to it."
Gut Check is always hungry for tips and feedback. E-mail the author at nancy.stiles@riverfronttimes.com or follow her on Twitter.
---