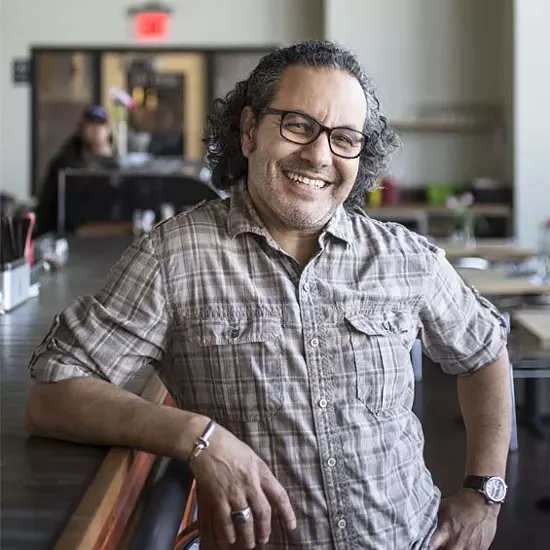 Spare No Rib owner Lassaad Jeliti | Jennifer Silverberg
Peek through the windows of Spare No Rib (2200 Gravois Avenue; 314-202-8244), and you might find owner Lassaad Jeliti editing a paper on non-Euclidean geometry. "I still have the intellectual curiosity," Jeliti says. "My friends send me their papers. It's a hobby -- an intellectual exercise."
For some, the idea of doing math for fun sounds crazy. Then again, a hybrid barbecue-joint-taqueria strikes some as odd. Obviously, Jeliti is not afraid of being branded as quirky. See Also: Spare No Rib's Mexican and barbecue are an (unlikely) match made in heaven
The former mathematics professor came to St. Louis to study at Washington University, only to find his true calling while working a part-time job at Bar Italia. It was there that he was first introduced to the barbecue and Mexican food that would serve as the backbone of Spare No Rib. "Some of the cooks [at Bar Italia] also worked at barbecue restaurants," Jeliti recalls. "The would bring in barbecue, and I loved the taste." These same cooks would also bring in fresh tortillas and cook Mexican food for the Bar Italia staff. The tacos they cooked led Jeliti to a culinary epiphany. "The jalapenos, the salsas, the spice -- in Tunisia we use harissa -- we have things like pico di gallo, and we also use a lot of cumin. It tasted like home."
Jeliti has a theory for the similarity of flavors. "When you think about it, Mexico was colonized by Spain, and the Spanish brought all of these spices with them. The Spanish got a lot of these spices from North Africa," Jeliti explains. In this sense, Tunisian and Mexican share fundamental similarities. As for the barbecue, Jeliti says, it reminds him of the street vendors in Tunisia. "We have a huge street-food culture back home," he says. Barbecue reminds him of the grilled meats served from food carts, eaten casually with the hands. Even the spices taste the same.
After speaking with Jeliti, one feels foolish for questioning Spare No Rib. "People's first impression of us is one of suspicion," he notes. "Barbecue and tacos both have a strong following. They can stand on their own. Once they taste what we do, though, they are convinced."
We are too, Mr. Jeliti.
Read my full review of Spare No Rib here.
Follow Cheryl Baehr on Twitter at @CherylABaehr. E-mail the author at Cheryl.Baehr@RiverfrontTimes.com.
---