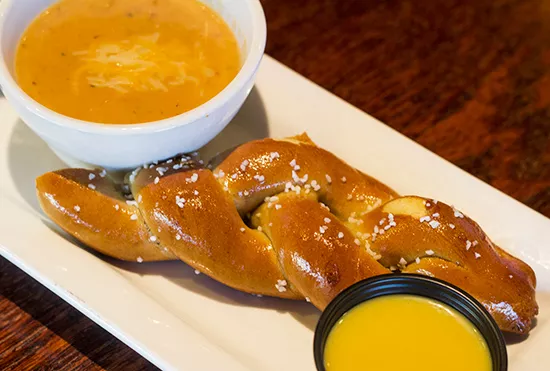 Photos by Mabel Suen
Pretzel with beer cheese soup.
The Place: Kirkwood Station Brewing Company (105 East Jefferson; Kirkwood; 314-966-2739)
The Hours: Happy hour is offered Monday through Friday from 2:30 to 6 p.m.
The Deal: $4 drafts, $3 premium spirits, $5 wines and half-off select full-sized appetizers including hot pretzels ($4.50), fried pickles ($4.50), fried green beans ($4.50) and nachos ($6.50).
The Scene: Established in 2006 (albeit with a couple of names changes along the way), Kirkwood Station Brewing Company features a full dining area in addition to an enormous bar that stretches across the expanse of a conjoining room. When we arrived on a weekday around dinnertime, the restaurant was already busy with customers of all ages, from couples and families to lone barflies.
See also: Kirkwood Station Brewing Co. Soon Available in Cans
The Food: The standout here from the happy-hour appetizer selection was the "Fresh Baked Braided Pretzel & Brew Master's Beer Cheese Soup." Served hot and buttery, the golden brown soft pretzels came with just the right amount of salt on them, poised for dipping in three different accompaniments: stone ground mustard, honey mustard and a warm and comforting housemade beer-cheese soup cooked to the proper consistency -- not too thick and perfect for dunking bits of tasty bread.
Did Kirkwood Brewing Station Company make the grade? Find out on the next page.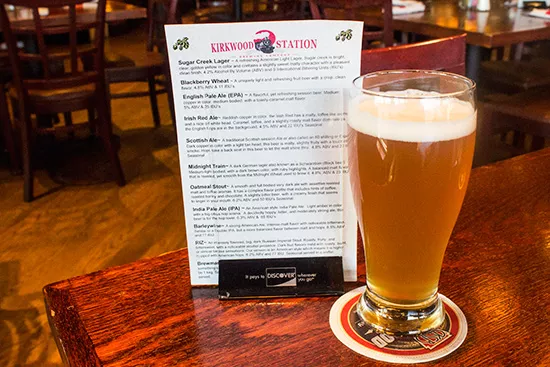 Kirkwood Station's "Blackberry Wheat" beer.
The Verdict: With an impressive list of house brews on draft and a warm and inviting environment, Gut Check gladly recommends Kirkwood Station Brewing Company as a midday meet-up spot for drinking and dining. The "Blackberry Wheat," a fruit beer with a crisp, clean flavor was very fragrant and refreshing. The slightly sweet and smooth beer with low ABV serves as a pleasant contrast to heavy snacks.
The filling "All Aboard Nachos" features tri-colored tortilla chips topped with an option of seasoned chili beef or Cajun seasoned grilled chicken, spicy cheese sauce, black bean corn salsa, sliced jalapenos, diced tomatoes, lime crema and guacamole. Though the long list of toppings sounded enticing, the dish somehow lacked punch. On the contrary, the nachos had enough going on to stay cheesy till the last chip, even though we never made it to the bottom of the plate. Prepare to share.
Bonus tip: Head to happy hour on a Monday or Tuesday -- draft beers are only $3 all day.
"All Aboard Nachos" with grilled chicken.
The Rating: On a scale of one to five...

Previously on Happy Hour Handbook: - Steve's Hot Dogs on the Hill
We're always looking for some more happy hour meal deals. E-mail the author at mabel.suen@riverfronttimes.com.