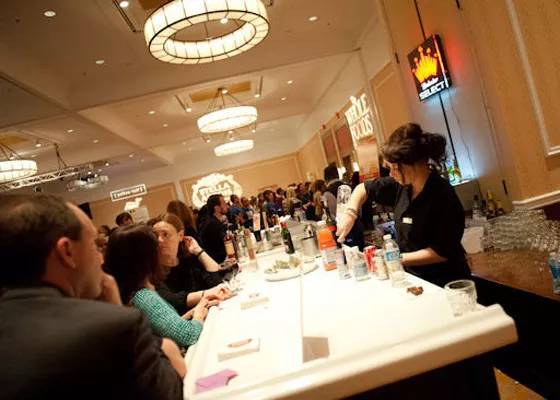 Iron Fork 2013. | Jon Gitchoff
Iron Fork is just over a week away, and we are looking out for you, loyal Gut Check readers. Not only have we finalized the list of participating restaurants and competing chefs, but we have a special deal for you.
See also: The Chefs of Iron Fork 2014: John Perkins, Juniper
Here are the restaurants cooking up delicious eats at Iron Fork, hand-picked by the Gut Check editorial team.
Adam's Smokehouse (2819 Watson Road; 314-875-9890) Anthonino's Taverna (2225 Macklind Avenue; 314-773-4455) Bogart's Smokehouse (1627 South Ninth Street; 314-621-3107) Central Table Food Hall (23 South Euclid Avenue; 314-932-5595) Cleveland-Heath (106 North Main Street, Edwardsville; 618-307-4830) Colleen's Cookies (7337 Forsyth Boulevard, Clayton; 314-727-8427) Cucina Pazzo (392 North Euclid Avenue; 314-696-8400) Cyrano's Cafe (603 East Lockwood Avenue, Webster Groves; 314-963-3232) Dressel's Public House (419 North Euclid Avenue; 314-361-1060) Evangeline's Bistro (512 North Euclid Avenue; 314-367-3644) Fork & Stix (549 Rosedale Avenue; 314-863-5572) Harvest (1059 South Big Bend Boulevard, Richmond Heights; 314-645-3522) Home Wine Kitchen (7322 Manchester Road, Maplewood; 314-802-7676) I Scream Cakes (2641 Cherokee Street; 314-932-5758) Iron Barley (5510 Virginia Avenue; 314-351-4500) Kakao Chocolate (2301 South Jefferson Avenue; 314-771-2310) La Tejana Taueria (3149 North Lindbergh Boulevard, Maryland Heights; 314-291-8500) Melt (2712 Cherokee Street; 314-771-6358) Mission Taco Joint (6235 Delmar Boulevard; 314-932-5430) Nadoz Bakery & Cafe (3701 Lindell Boulevard; 314-446-6800) Nathalie's (4359 Lindell Boulevard; 314-533-1580) Onesto Pizza & Trattoria (5401 Finkman Street; 314-802-8883) Pappy's Smokehouse (3106 Olive Street; 314-535-4340) Quincy Street Bistro (6931 Gravois Avenue; 314-353-1588) Salume Beddu (3467 Hampton Avenue; 314-353-3100) Scape American Bistro (48 Maryland Plaza; 314-361-7227) Seoul Taco (571 Melville Avenue; 314-863-1148) Smalls Tea & Coffee (2619 1/2 Cherokee Street; 314-669-5698) Spare No Rib (2200 Gravois Avenue; 314-202-8244) Strange Donuts (2709 Sutton Boulevard, Maplewood; 314-932-5851) Sugarfire Smoke House (9200 Olive Boulevard, Suite 114, Olivette; 314-997-2301) Taste by Niche (4584 Laclede Avenue; 314-361-1200) The Dam (3173 Morganford Road; 314-771-3173) The Fountain on Locust (3037 Locust Street; 314-535-7800) The Kitchen Sink (280 De Baliviere Avenue; 314-261-4455) The Restaurant at the Cheshire (6300 Clayton Road; 314-647-7300) Water Street Cafe (7268 Manchester Road, Maplewood; 314-646-8355) Whisk: A Sustainable Bake Shop (2201 Cherokee Street; 314-932-5166)
The competing chefs are returning champ Ed Heath of Cleveland-Heath, John Perkins of Juniper, Colleen Clawson of Standard Fare and Brian Hale of Element.
Continue to get $5 off your Iron Fork tickets!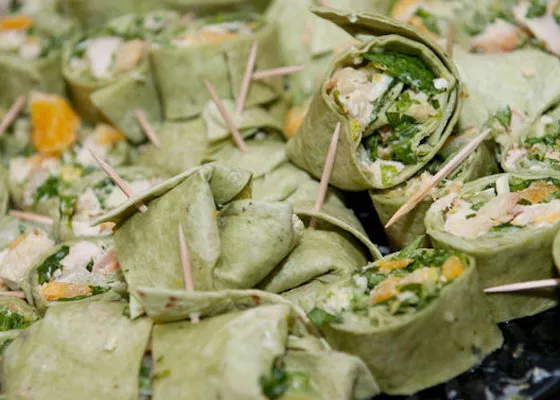 Noms from Iron Fork 2013. | Jon Gitchoff
Iron Fork is March 20 at the Union Station Hotel. Tickets are normally $40, but if you use the code SPOON here, you'll get general-admission tickets for $35 and VIP Tickets for $75. With GA, you get three complimentary drinks, unlimited food tastings from all the restaurants, cocktail samples, live music and other entertainment. On top of that, VIP gets you two more drinks, early access to Iron Fork, a sweet gift bag and samples from local wineries.
Gut Check is always hungry for tips and feedback. E-mail the author at nancy.stiles@riverfronttimes.com or follow her on Twitter.
---