The tiny but adorable patio at Half & Half in Clayton. | Jennifer Silverberg
The weather we've all been waiting for is here, and you know what that means. Patios! There are few things better than enjoying a good meal in the sunshine. But when it's nice out, Fido wants to come too -- and you're not going to say no to those big, sad eyes. We've rounded up some of our favorite places that have dog-friendly patios. Some even offer dog bowls and treats! Put the leash on, and let's go for a walk.
See also: Five Best Day-Drinking Spots in St. Louis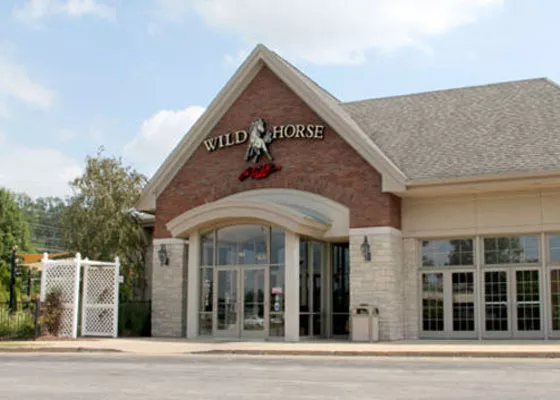 The shaded patio is just off to the left. | Kelly Hogan
Wild Horse Grill (101 Chesterfield Towne Centre, Chesterfield; 636-532-8750)
Wild Horse Grill is very dog-friendly. On Wednesday afternoons during Pups on the Patio, guests bring well-behaved dogs and hang out. There are even special doggie treats and grassy play areas. Co-owner Tony Valenta is known to bring his own pet and schmooze until close.
Outdoor seating comes with a great view. | RFT Photo
The Boathouse at Forest Park (6101 Government Drive; 314-367-2224)
Forest Park is a classic spring destination. Go for a jog through the park with your dog, or relax lakeside with the pup. It's pretty crowded in the warmer months (many people go pre-Muny), but you can wait for your table in the Adirondack chairs with a cocktail. Just don't let your dog jump in the water!
The Bridge on Locust. | Jennifer Silverberg
Bridge Tap House and Wine Bar (1004 Locust Street; 314-241-8141)
Many downtown restaurants allow dogs to hang out on the patio and provide water bowls, but the Bridge is one of our favorites. The patio isn't open just yet -- it hasn't been warm for very long, to be fair -- but if the weather stays this good, it could be open as early as the end of the week. When it is, dogs are always welcome.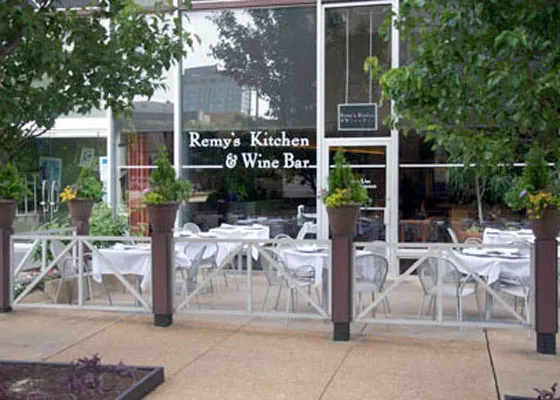 Hello spring! | Tara Mahadevan
Remy's Kitchen and Wine Bar (222 South Bemiston Avenue, Clayton; 314-726-5757)
As we recently learned, Remy's has a lot more to offer than just wine. The sidewalk tables are particularly pleasant in the afternoon. Get a grown-up cocktail after work in Clayton, and your dog will enjoy all the people-watching.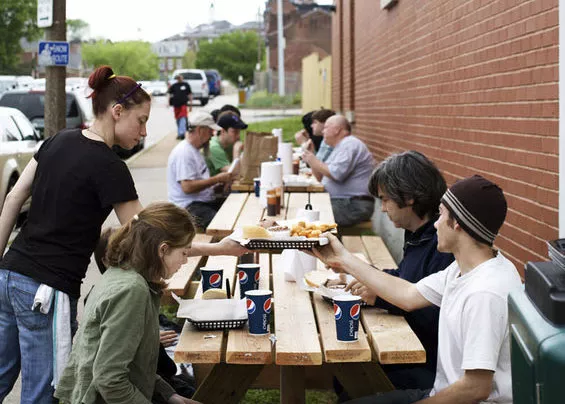 Family fun at Bogart's. | Jennifer Silverberg
Bogart's Smokehouse (1627 South Ninth Street; 314-621-3107)
Bogart's is another great people-watching spot, and your dog will love the chance to sniff and smell everything and everyone walking by. Plus, he'll love you even more than he already does if you throw him any of your barbecue scraps.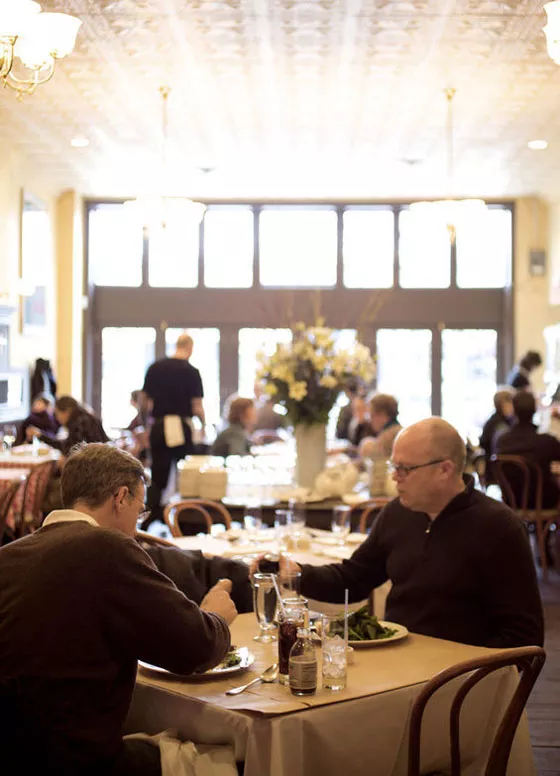 The seating outside is just as cute as the inside. | Jennifer Silverberg
Brasserie by Niche (4580 Laclede Avenue; 314-454-0600)
When it's warm, Brasserie keeps its doors open and has extensive sidewalk seating, just like a real Parisian brasserie. Enjoy brunch, lunch or dinner outside in this heavily trafficked area of the Central West End...and of course, a cocktail en francais.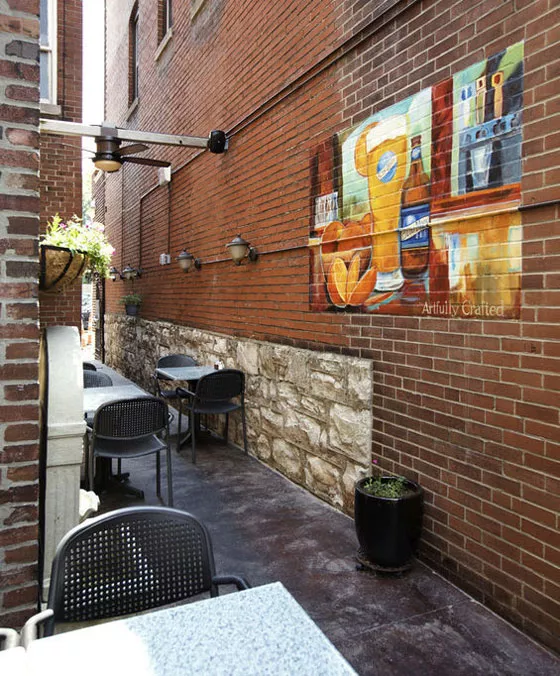 The back patio at Three Kings. | Jennifer Silverberg
Three Kings Pub (6307 Delmar Boulevard, University City; 314-721-3355)
Three Kings has several tables outside on the sidewalk for summertime sipping and snacking. In fact, it's how we at Gut Check HQ decided spring was really here -- the tables are out! Don't forget about the outdoor patio in the back. Patrons often bring their dogs to lounge in the Loop with them, and once we saw someone with a teacup pig on a leash. (No joke, we heard it screeching, and thought someone was getting murdered. It was really cute though.)
Aww, cute. | Crystal Rolfe
Half & Half (8135 Maryland Avenue, Clayton; 314-725-0719)
The patio at Half & Half kind of makes you feel like you're at your own little country retreat. Sure, the cars of Clayton are zooming by, but the wrought-iron fence and gates make it oh-so-quaint. Spend a Saturday morning eating a leisurely breakfast with a nice breeze, and your dog will enjoy the occasional piece of bacon.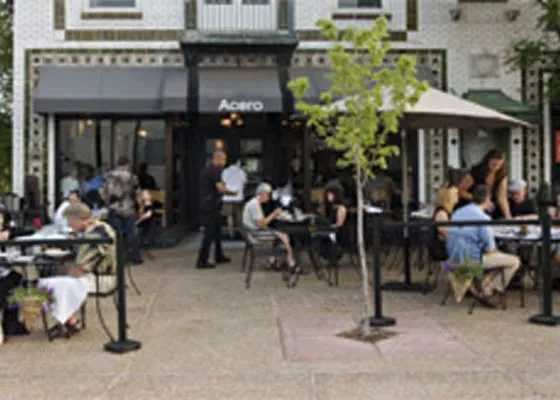 Acero and its next-door neighbor, Water Street.
<big>Water Street Cafe (7268 Manchester Road, Maplewood; 314-646-8355)
Water Street and the restaurant next door, Acero, both have nice little patios that overlook downtown Maplewood. The motorcycle-repair shop across the street is somewhat of a nuisance, but it's still a great spot to kick back with a friend and a bottle of wine. Water Street will even bring out a bowl of water for your pup.
Cyrano's (603 East Lockwood Avenue, Webster Groves; 314-963-3232)
Forget dinner -- pop on over to Cyrano's for a scrumptious dessert and cocktail to match. The patio overlooks the lazy main drag of Webster Groves, and it couldn't be more pleasant. Your dog might even fall asleep (thank God).
Gut Check is always hungry for tips and feedback. E-mail the author at nancy.stiles@riverfronttimes.com or follow her on Twitter.
---