Lupulin Carnival brews. | Jon Gitchoff
All hail the mighty hop plant, whose flowers produce lupulin -- the substance that imparts flavor and aroma to beer and also acts as a preservative. To celebrate this botanical gem, 4 Hands Brewing Company (1220 South Eight Street; 314-436-1559) staged the third annual Lupulin Carnival on Saturday. The carnival featured hop-forward beers from the host and a couple dozen guest breweries, carnival-inspired performances, live bands, and fare from local food trucks.
See also: Draft Pick: 4 Hands' Releases "Cuvee Diable," the Devilish Sister of "Cuvee Ange"
Fire eaters. | Jon Gitchoff
As Gut Check walked into the "Greatest Beer Show on Earth," we marveled as stilt-walkers, a bearded lady, a hobo clown and a human blockhead moseyed through the crowd, interacting with attendees. At various times, a stage at the center of the tent showcased a woman climbing a machete-runged ladder, an aerial silks performance, fire dancing.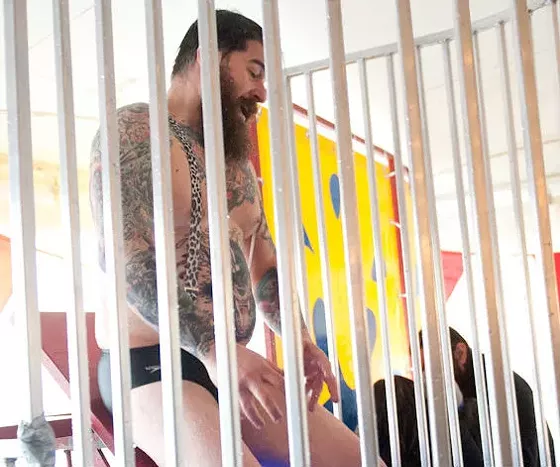 If that's beer beneath him, worth it. | Jon Gitchoff
After soaking in the sights, Gut Check got down to the business at hand -- sampling suds. Highlights we tried from the guest breweries included Toppling Goliath's "Pseudo Sue," Tallgrass' "Ethos" IPA, Mother's "Lil' Helper," and Pipework's "Ninja Vs. Unicorn."
Civil Life's "Mangia" | Jon Gitchoff
Each year, 4 Hands uses the Lupulin Carnival to release "War Hammer," an imperial IPA brewed with a variety of Pacific Northwest hops. "War Hammer" has a huge piney aroma. It tastes of citrus backed with satisfying malt punch and finishes sticky in the throat. It's just a beautiful beer that hits all the right notes one would expect from an imperial IPA.
"War Hammer" will be in stores this week. At the brewey on Saturday, draft servings were $6 and bottles to-go were $8.99, but the price at other stores and bars will vary. Be sure to pick some up soon.
Under the big top. | Jon Gitchoff
For a full slideshow from the Lupulin Carnival, click here.
Follow Richard Haegele on Twitter at @RtodaizH. E-mail the author at stlouisbeergeek@gmail.com.
---