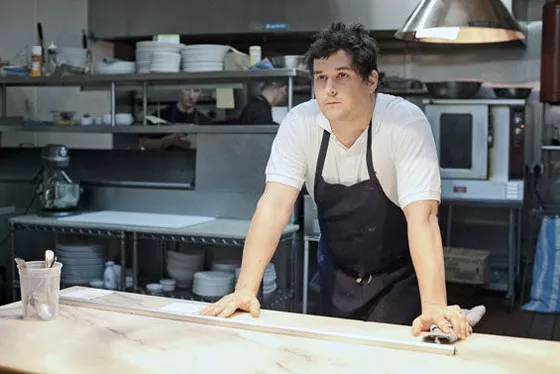 Chef Mike Randolph at his last Mexican venture, MEDIAnoche. | Crystal Rolfe
The Good Pie (6665 Delmar Boulevard; 314-899-9221) just opened last week, but owner and chef Mike Randolph already cooking up something new (pun totally intended). He recently announced he's opening an upscale Mexican restaurant called Público at 6670 Delmar, just a few doors down from his pizza joint.
See also: The Good Pie Now Open on Delmar
"Honestly I'm not a mail-it-in kind of boss, so for me to be able to run these two restaurants, they need to be right next to each other," Randolph tells Gut Check. "I've always loved cooking Mexican food, and the space became available and it turned out to be a really good opportunity."
Randolph's progressive Mexican restaurant MEDIAnoche closed in August 2012 to make way for the late, great Little Country Gentleman. Since that has closed as well, he's re-opened the Good Pie and will spend the next few months preparing for Público. Space Architects is designing the Público; it's previously worked with Randolph on Half & Half, the Good Pie and Little Country Gentleman.
"It will have a dark wood, very old-timey feel. It's someplace you could feel comfortable bellying up for a few hours," he says. "I think it's going to be a relaxed place with a dark wood, fire ambience to it. It's going to have a big, old-school Prohibition style mahogany bar, so the feel is definitely not someplace that you're going to be ushered through in 25 minutes."
Shelley Niemeier of Space tells us that the firm works to give every client (many of which are restaurants) their own unique feel, instead of putting Space's stamp on it.
"We don't want to do a template. Mike has a really unique personality, and we've had a good working relationship with him in that he's given us a lot of leeway," she says. "We get to be a little more creative, and we're going to try to do good work for him. We want to surprise him and we want to make him happy."
It's only a 2,000-square-foot space, so the biggest challenge will be creating the open, all-wood hearth. Randolph wants this type of oven because traditional Mexican food would have been cooked over a fire. As for the bar, look for one (presumably amazing) margarita, plus a few beers on tap. The emphasis will be on mezcal, tequila and whiskey cocktails.
There are more than a few Mexican Restaurants in the Loop, most notably Mission Taco Joint and Seoul Taco, but Randolph thinks Público will fill a different niche.
"It's a different thing. The wood, the ambience sets us apart. We're not trying to become a turn-and-burn taco joint. We're trying to be someplace that people can come in and maybe get a good piece of meat, fish," he says. "But if they do get tacos, they're going to get 'em roasted by hand, by wood in our custom hearth in really good corn tortillas imported a couple times a week from Mexico and New York."
Randolph and co. are aiming for a July or August opening -- keep an eye out for a first look inside the Good Pie in the meantime.