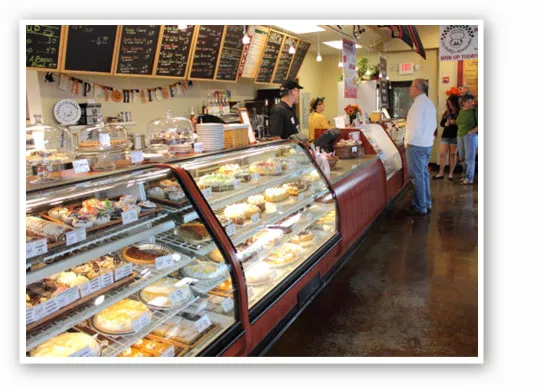 Inside My Daddy's Cheesecake in Clayton. | Kayci Merritte
My Daddy's Cheesecake Bakery & Cafe (6451 Clayton Road, Clayton) has closed up shop as of February 28. It was the only St. Louis outpost of the Cape Girardeau-based dessert company and cafe. There was no announcement, but customers apparently showed up and were dismayed to see that it was closed for good.
See also: Celebrate National Cheesecake Day Today
Franchisee Mike Schwarz tells Gut Check that the closure was due in part to a dispute with the landlord. And the other part?
"There's no use dragging it out," Schwartz says, declining to give the other reason for the closure. My Daddy's Cheesecake locations in Missouri, Illinois and Kentucky are franchises, and a spokesperson in Cape says there are talks of opening another St. Louis location, but there is nothing in the works at this time.
Need a cheesecake fix? You can order treats online here.
Gut Check is always hungry for tips and feedback. E-mail the author at nancy.stiles@riverfronttimes.com or follow her on Twitter.
---