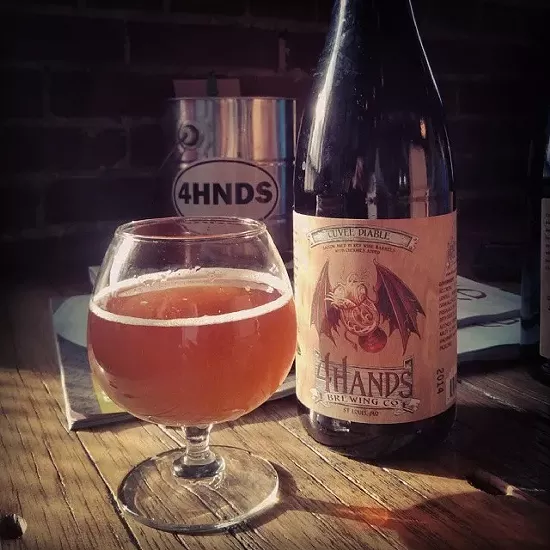 Justin L. Phillips
Cuvee Diable by 4 Hands Brewing Co.
Welcome to "Draft Pick," a column by Gut Check contributor and craft-beer aficionado Richard Haegele. Each week, Richard will profile the most exciting new draft being poured in St. Louis, how it was made and where you can find it.
Once thought of as a dying style, saisons have enjoyed a bit of a resurgence in recent years. The style, which gets its name from the French word for "season," originates from the French-speaking farms of southern Belgium, where these farmhouse ales were brewed in the cooler months and served to seasonal workers in the warmer months.
See also: Draft Pick: Square One's "Ochofabuloso" is a Hop Head's Dream
4 Hands Brewing Co. (1220 South Eight Street; 314-436-1559) certainly knows a few things about making saisons. Its seasonal lineup includes two, "Prunus" and "Pyrus," and it released its first barrel-aged saison, "Cuvee Ange," in late 2012 to rave reviews. So when Gut Check learned of the pending release of "Cuvee Ange's" sibling, "Cuvee Diable," we knew we had to check it out.
4 Hands fermented "Cuvee Diable" with a wild yeast strain and then aged the beer in Cabernet barrels along with tart cherries for ten months. The resultant beer pours a hazy pink color and smells of wonderfully tart fruit. The sour cherries dominate the beer's taste initially, but it then gives way to funk, pepper and wood before ending in a nice dry finish. Be sure to get to 4 Hands soon to try it.
Box Score Beer: Cuvee Diable Brewery: 4 Hands Brewing Co. Style: Saison ABV: 5.8 percent Price: $14.99
Follow Richard Haegele on Twitter at @RtodaizH. E-mail the author at stlouisbeergeek@gmail.com.
---