Photos by Mabel Suen
The "Aye Chihuahua" with a quarter-pound chorizo, cilantro, chipotle onions, relish, spicy brown mustard, jalapeno and avocado.
The Place: Steve's Hot Dogs on the Hill (2131 Marconi Avenue; 314-762-9899)
The Hours: Happy Hour is offered every Friday from 3 to 5 p.m.
The Deal: Every hot dog and sausage on the menu is half off. As is standard with any purchase during regular hours, upgrade any order to a combo with a bag of chips and bottled drink for $1.50.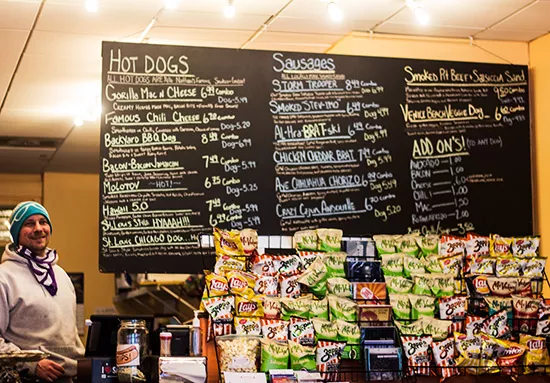 Order your dogs at the counter.
The Scene: Local musician Steve Ewing of the Urge and Steve Ewing Band opened the brick-and-mortar version of his hot-dog cart in 2012, occupying a small storefront on the Hill. Inside, visitors will find a humble dining room with tables for two or four surrounded by plenty of paraphernalia to distract wandering eyes. The walls feature flair from Ewing's bands, as well as Star Wars trinkets and toys. All in all, it's a casual setting, an appropriate low-key spot for grabbing a quick bite.
The Food: Named best hot dog in St. Louis in RFT's Best of St. Louis 2012, Ewing has perfected his flavor combinations over the years, now offering more than a dozen different options. Nathan's Famous brand frankfurters and various other kinds of sausages get infused with flavor in a hickory smoker and open-fire grilled, topped with a variety of options between buns. Choose from options including chili-cheese and the "Gorilla Mac & Cheese Dog" with mac & cheese, bacon and French's fried onions. "Without a doubt, it's the fan favorite," says Ewing, in regards to the latter.
Did Steve's dogs make the grade? Find out on the next page.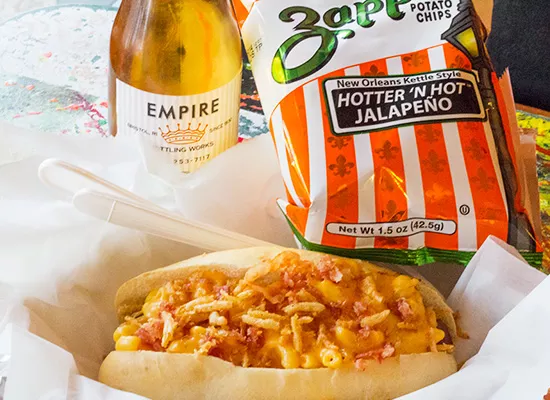 The popular "Gorilla Mac & Cheese Dog."
The Verdict: Hot diggity! What a deal. For around $20, Gut Check enjoyed a late lunch with three friends. With a big pile of chips to choose from and a cooler stocked with fizzy, fruity sodas -- Excel Bottling Company, Empire Soda and Fitz's included -- the only downside to eating at Steve's was having to choose just one thing to order. Pick up a customer loyalty punch card at the register, though, and have plenty more reasons to dine in more often.
Next time, we'd like to try the "Al Hra-BRAT-ski," a smoked Hungarian bratwurst dressed with saurkraut, mustard and celery salt. Note: Steve's is vegetarian-friendly, too. Check out the Veggielante's full report of available options: "Steve's Hot Dogs on the Hill's Secret (and Not-So-Secret) Menu for Vegetarians."
The Rating: On a scale of one to five...

We're always looking for some more happy hour meal deals. E-mail the author at mabel.suen@riverfronttimes.com.