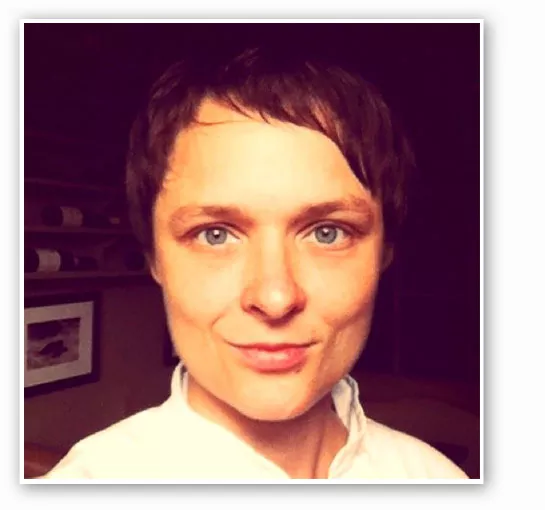 Colleen Clawson, of Standard Fare. | Colleen Clawson
Iron Fork 2014 is only a few weeks away, and one of the best parts (besides all that food) is the chef competition. Four local chefs at the top of their game will cook their hearts out live, onstage, with a mystery ingredient. Only one will be declared the winner.
Last year, Ed Heath of Cleveland-Heath took top honors, and he'll be returning to defend his title. But he'll be meeting three young challengers in the ballroom at the Union Station Hotel on March 20.
Let's get to know our worthy contenders, shall we? First up, Colleen Clawson of the forthcoming restaurant Standard Fare on Cherokee Street.
See also: The Restaurants and Competitors of Iron Fork 2014 -- So Far
Name: Colleen Clawson Age: 33 Pedigree: L'Hotellerie School of Hospitality and Culinary Arts, Frazer's, Venice Cafe, Yemanja Brasil, Remy's Kitchen, Big Sky Cafe Restaurant: Standard Fare Hometown: Kirkwood Nickname: "Pimptress Coco" -- don't ask
"Cooking is just such a huge part of my life and culture. I feel like it's a good marriage of things that I enjoy -- both creatively and practically. I like beautiful food, but it also tastes good, and it serves a need, it's purpose-driven. Everybody has to eat," Clawson tells us. "I just find it all fascinating."
Clawson has been working in restaurants since she was fourteen, riding her bike at 4:30 a.m. to Dunkin' Donuts. At sixteen she was visiting friends in Belgium when she took a culinary class at L'Hotellerie School of Hospitality and Culinary Arts.
"I went into the culinary school and they were like, 'Suit up, all hands on deck!' It was really fun. My first day I walked in there, they brought in five whole hogs and I was like, 'We're gonna do what?!'" she says. "I spent the whole first day cleaning intestines. I was pretty hooked."
She eventually found her way back stateside and began her St. Louis culinary career on line prep at Frazer's (1811 Pestalozzi Street; 314-773-8646).
"That's where things got serious for me. I started in the pantry there and worked through the stations," Clawson says. "The perspective I got there -- the local food at that time was pretty new to me, and I got really deeply involved in food and politics and what it means."
She also worked at Venice Cafe (1903 Pestalozzi Street; 314-772-5994) making Jamaican food six months out of the year; the other half gave her time to explore other kitchens, including Yemanja Brasil (900 Missouri Avenue; 314-771-7457).
"Then I wound up at Remy's (222 South Bemiston Avenue, Clayton; 314-726-5757) for several years and worked with Rachel Moore, who I have to say has been a really incredible influence on me. She has like this encyclopedic knowledge of things that I really admired and a pretty unique approach to food," Clawson says.
After that, she took some time off to have a baby before joining the team at Big Sky Cafe (47 South Old Orchard Avenue, Webster Groves; 314-962-5757).
Finally, though, Clawson is preparing to run her own kitchen at Standard Fare, which will be located at Texas and Cherokee streets. It's a vacant lot right now, but Clawson and developer Jason Deem are working with Killeen Studio Architects to turn old shipping containers into a sidewalk cafe. Plans include an outdoor mezzanine and rooftop patio with up to 100 seats, with a room inside for about 20 seats. The repurposed shipping containers are from all of the world, which adds to Standard Fare's international focus.
"It's globally inspired street food. It really examines the intersection between movement and mobility and transportation and food and culture," she explains. "[My] experience making different kinds of food is really informing the menu of the new place."
Iron Fork isn't Clawson's first food competition. lus, she says, plus part of working in a kitchen is changing things at the last minute or coming up with things on the spot, which is her forte. Clawson won't give up her Iron Fork strategy, though.
"I wish to remain a mystery!" she teases. "I'm just honored to be included. But I like a good, healthy competition. So everyone, be ready."
Iron Fork is coming up on March 20 -- get your tickets here and see Colleen Clawson in action.
Gut Check is always hungry for tips and feedback. E-mail the author at nancy.stiles@riverfronttimes.com or follow her on Twitter.
---