House-made falafel at Winslow's Home | Tara Mahadevan
The Veggielante is on a mission to spread the word about places to order good, meatless grub. Check out this week's pick.
Destination: Winslow's Home (7213 Delmar Boulevard; 314-725-7559)
Neighborhood: University City
Cuisine: "Blend of Different Cultures"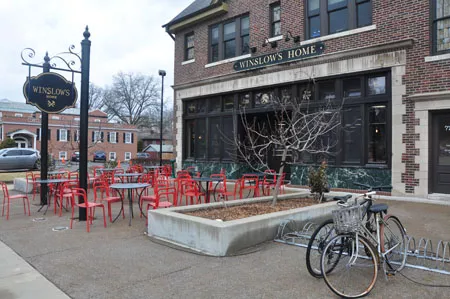 Winslow's Home | Tara Mahadevan
See also: Benton Park Cafe Rolls Out New Vegetarian Menu for Spring
Overview: When you walk into Winslow's Home, you might be a little surprised at all the items -- books, knick knacks, snacks -- on display around the space. Winslow's Home acts as both a restaurant and general store, with options on its menu for fine dining, breakfast and "Wee Winslow's." Not only does chef Wil Fernandez-Cruz do a great job of making sure his vegetarian customer has options, but he supplements the menu with a new vegetarian dinner special everyday, borrowing dishes from different cultures and making them his own.
Inside Winslow's Home | Tara Mahadevan
Highlights: Instead of throwing a few falafel balls in a pita, the house-made falafel ($9) at Winslow's Home comes in the shape of a patty, sandwiched between a burger bun and garnished with greens and a cilantro yogurt. It is often the vegetarian's plight to find something to fulfill that hamburger craving--Winslow's Home's version definitely satisfies.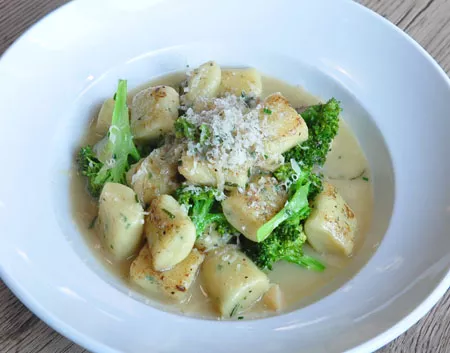 Homemade potato gnocchi at Winslow's Home | Tara Mahadevan
One of Winslow's Home's dinner specials is its homemade potato gnocchi ($16), laden with broccoli, Parmesan, onions and a light cream sauce. Gnocchi is a particular favorite of the Veggielante, and the restaurant's version is a delight; the soft texture of the gnocchi pairs well with crisp broccoli and sauteed onions.
Another favorite from Winslow's Home's regular menu is the torta rustica ($9.75): layers of spinach, portobello mushrooms, roasted peppers and fontina cheese between a pastry crust. And need we remind you that the restaurant serves breakfast all day?
See also: Planet Sub's Tempeh Sandwiches Pack a Punch for Vegetarian Taste Buds
Gut Check is always hungry for tips. E-mail us!
---