Welcome to Sugar High, a new series devoted solely to spotlighting the best ways to sate a sweet tooth in St. Louis. We'll sample the best the city has to offer at restaurants, bakeries and holes-in-the-wall, and provide some insight on how these confections are made along the way.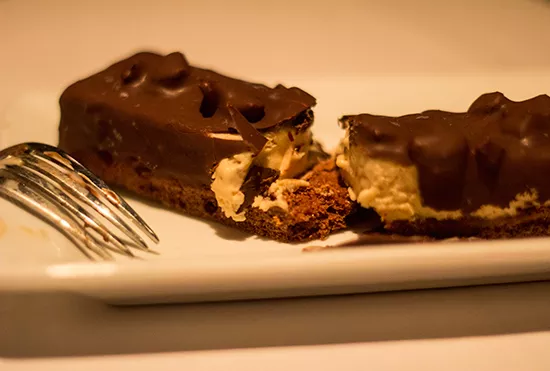 Like the rest of its menu, the Libertine's (7927 Forsyth Boulevard; 314-862-2999) desserts rotate as often as seasons change. One sweet end-of-the-meal treat, however, has become a classic at the popular Clayton eatery: the "Candy Bar." Since the restaurant's opening in May last year, the indulgent frozen dessert has anchored the menu with a decadent bookend to the Libertine's stellar savory offerings.
See also: 100 Favorite St. Louis Dishes: The Libertine's Fried Chicken
Developed by executive sous chef Joshua Poletti, the "Candy Bar" resembles one of Gut Check's favorite nostalgic options from the ice cream truck. Like a mature version of frozen Snickers bars, the upscaled dessert contains higher-quality ingredients than its convenience store counterpart while still offering up all the elements that sate those sugar-addiction fueled hunger pangs.
It might not look like much on the plate, but we know it's what inside that counts.
The only downside to consuming the Candy Bar comes from simple rules of publicly-accepted table etiquette. Luckily, a clean fork cuts through with relative ease past cracking through the initial chocolate coating.
From the plate up, the "Candy Bar" begins with a chocolate dacquoise, a light cake made gluten-free with coconut flour. The creamy ice cream-like component, as well as a hint of salt to offset all the sweetness, comes from a salted caramel semifreddo -- a cream-based chilled concoction that makes up the bulk of the bar. This all gets dipped in a ganache made from TCHO brand dark chocolate from the west coast. Hazelnuts add that obligatory crunch.
To sum it up, we leave you with the "Candy Bar" in a nutshell, as summed up by staff at the Libertine: "Think of the most delicious Snickers bar you've ever eaten."
Which brings to mind a familiar slogan: Hungry? Well, you know what to do.
Previously on Sugar High: - Cleveland-Heath's Old Fashioned Cherry Pie - Schlafly Tap Room and Bottleworks' Sticky Toffee Pudding
We're always looking for some sweet ideas. E-mail the author at mabel.suen@riverfronttimes.com.