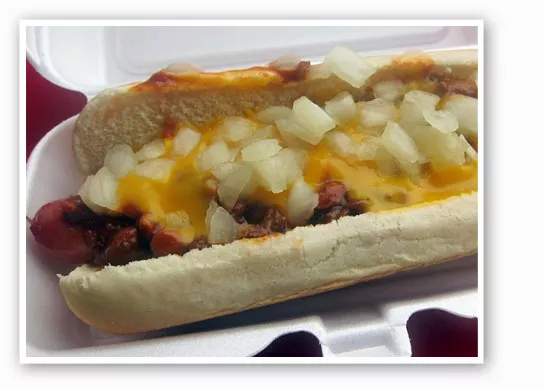 The Chili Dog: all-beef hot dog topped with chili, melted cheddar cheese and chopped onions. | Dog'n It
Chicago-style hot dogs have hit Chesterfield. No, not at Sonic, but a (relatively) new spot called Dog'n It (1721 Clarkson Road, Chesterfield; 636-536-3640). Husband-and-wife team Jennifer Kaufman and Mike Hohrein opened the eatery on December 17.
See also: The Seven Best Hot Dog Stands in St. Louis
"We're keeping the Chicago dream alive in Chesterfield, you could say," Kaufman tells Gut Check.
Kaufman and Hohrein have been wanting to open their own restaurant for several years and came up with the name long before Dog'n It was a reality. The fast casual spot features all-beef Vienna dogs and other Chicago specialties like gyros and Italian beef.
The opportunity finally presented itself a few months ago. Kaufman had gotten up in the corporate world until she lost her job last May. Instead of finding a new position working for the Man, it seemed like the perfect time to start Dog'n It. Hohrein still works in shoe repair but would love to open a second location if the first is successful.
The couple isn't from Chicago, but they love Chicago-style food and know a lot of other people do, too. Dog'n It's Italian beef and gyro meat comes straight from the Windy City; Kaufman says she wants to be as authentic as possible.
Bacon was just added to the menu, including this week's debut of the jumbo bacon cheese dog. "We're always adding to the menu and taking ideas from customers," Kaufman says. Hours are only 10:30 a.m. to 3 p.m. right now, but look for extended hours on Friday and Saturday once the weather warms up. Check out the full menu here.
"Everybody talks bout Woofie's [Hot Dogs] in Overland," Kaufman says. "I want to be the next Woofie's, or Portillo's in Chicago. I want people to talk about us as much as they talk about Woofie's."
Gut Check is always hungry for tips and feedback. E-mail the author at nancy.stiles@riverfronttimes.com or follow her on Twitter.
---