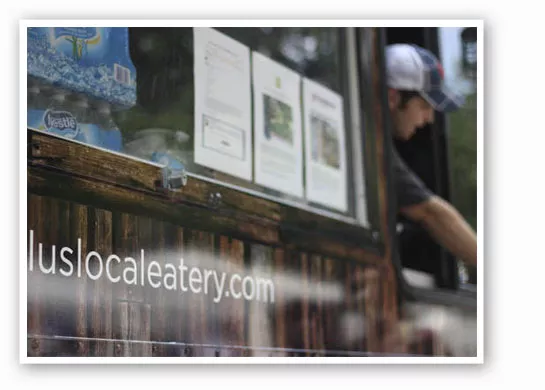 Lulu's Local Eatery at PrideFest. | Alexis Hitt
Following in the footsteps of successful food trucks like Seoul Taco, Hot Aztec and the Sweet Divine, Lulu's Local Eatery is about to stay put. The sustainability-focused food truck will post up at 3201 South Grand in early May.
See also: Sump Coffee Hosts Pop-Up Brunch with Lulu's Local Eatery
"We knew, for us to grow, we were probably going to have to grow into a brick-and-mortar," co-owner Lauren Loomis tells Gut Check. "We were just looking for the perfect fit."
Sweet potato falafel from Lulu's Local Eatery. | Jon Gitchoff
The restaurant will seat about 40 people inside, plus an outdoor beer garden. It's a fast-casual setting, so diners will order at the register with minimal wait times. The menu will be similar to the food truck's offerings, with rotating seasonal items and brunch on Saturday and Sunday as well.
The decor's (loose) theme is sustainability, and Loomis and her husband, Robert Tucker, are designing the interior themselves. Look for a lot of reclaimed materials and even a living moss wall. The beer garden is a nod to Tucker's passion for craft beer combined with a great patio space.
Loomis says the South Grand area is taking steps to become more eco-friendly (like the upcoming Pocket Park), which is compatible with Lulu's sustainable mission.
If all goes well, there could be more locations in the future, and the food truck will continue to operate. "Who knows -- the sky's the limit," Loomis says. "We're starting small and dreaming big."
Gut Check is always hungry for tips and feedback. E-mail the author at nancy.stiles@riverfronttimes.com or follow her on Twitter.
---