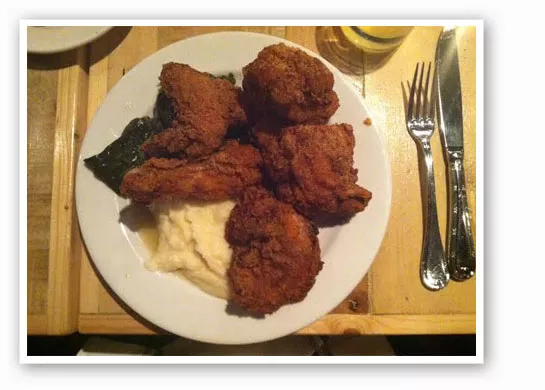 Josh Galliano's famous fried chicken | Cheryl Baehr
Gut Check is counting down the 100 dishes in St. Louis that you must eat right now.
Josh Galliano is not afraid to divulge the secret to his fried chicken. As our server at the Libertine (7927 Forsyth Boulevard; 314-862-2999) said, "chef has published his fried chicken recipe for everyone to see. He figures that if someone wants to spend the week that it takes to make it, more power to them."
See Also: The Libertine: Clayton's "neighborhood eatery" is more like St. Louis' best new restaurant
Indeed, Galliano's southern fried bird involves more than just breading and a deep fryer. It begins with a multi-day soak in sweet tea brine, then another day in some buttermilk. Galliano then coats the chicken with a 50-50 mix of seasoning and flour. The result is a fried chicken masterpiece -- tender, juicy meat and perfectly crunchy breading that has just the right amount of spice. Fried chicken night is an event at the Libertine. It's not offered daily on the menu (although, hush hush, it's on the lunch menu as part of a salad) but makes an appearance about every month or so for the Libertine's Sunday Suppers program. On the night of our visit, we had the pleasure of pairing it with smoky potlikker greens, mashed potatoes, creamy chicken gravy and some sorghum glazed biscuits. Talk about southern comfort.
Previously:
#97: Pork Belly at Element #98: M'Lwee at Baida #99: Breadbasket at Juniper #100: Bucatini All'Amatriciana at Pastaria
Follow Cheryl Baehr on Twitter at @CherylABaehr. E-mail the author at Cheryl.Baehr@RiverfrontTimes.com.
---