A Valentine-ready tiramisu crepe cake at Crepes, etc. | Crepes etc.
So you forgot to make a reservation for Valentine's Day. Don't panic. There may be some spots left, but we've got a better idea. Lots of places are extending their romantic dinners all weekend or offering alternative activities. We're here to help -- you'll have such a good time, your significant other will forget it isn't actually February 14.
See also: Brews for Two: Our Favorite Local Beers to Drink on Valentine's Day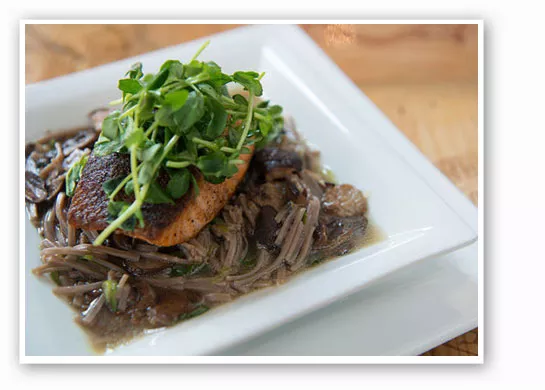 Porcini salmon at Robust. | Jennifer Silverberg
Robust Wine Bar (227 West Lockwood Avenue; Webster Groves)
Robust's prix fixe Valentine's Day menu is available Friday night, of course, but it's also served Thursday, February13, and Saturday, February 15. It's $45 per person for a three-course meal, with an optional wine pairing with each course for $15. Start with a lobster bisque, then enjoy hard seared duck breast on a duck confit potato latke with apple-chile chutney and finish with a hazelnut torte. And that's just one of the options. Call 314-963-0033 for reservations.
Amelie's Famous Plum Cake with plums, greek yogurt, plum jam and almonds at Tenacious Eats. | Nancy Stiles
Tenacious Eats at Meyer's Grove (4510 Manchester Avenue; 314-932-7003)
Tenacious Eats pairs great films with a menu inspired by your favorite moments, which makes for a totally unique viewing (and dining) experience. On February 19 and 20, the feature is Chocolat -- you know, that incredibly sexy Johnny Depp movie. Plus, chef Liz Schuster is pairing with Kakao for a chocolate-heavy menu. You'll be glad you waited to celebrate Valentine's Day. Tickets are $65 per person for five courses and accompanying cocktails, available here.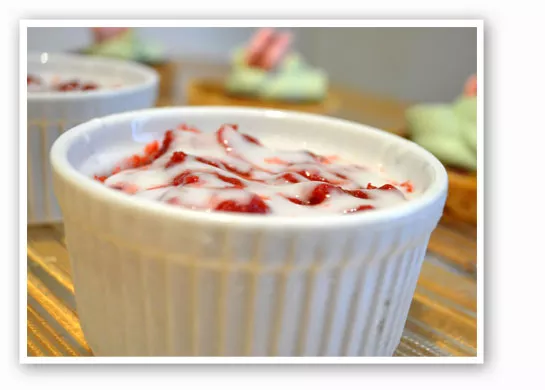 Red velvet bread pudding. | Crepes, etc.
Crepes, etc. (52 Maryland Plaza; 314-367-2200)
8 p.m. on Valentine's Day and you're totally at a loss? Open till 11 p.m., Crepes has your back. Chef Julie Weldele is offering special pastries all weekend like chocolate-strawberry macarons, red velvet bread pudding, conversation heart cookies and tiramisu crepe cakes. Stop by on your way to meet that special someone, and you'll be in the clear.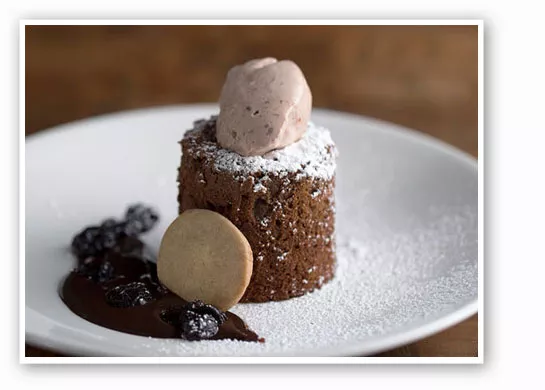 Chocolate souffle cake with sun-dried-cherry ice cream at the Restaurant. | Jennifer Silverberg
The Restaurant at the Cheshire (6300 Clayton Road, Richmond Heights; 314-647-7300)
A romantic dinner at the Restaurant at the Cheshire is a perfect plan for Valentine's Day. Luckily, the dinner is being offered Saturday, February 15, and Sunday, February 16, too. Whether you've got to work Friday night or you just forgot, you can still snag a table and sample chef Rex Hale's seasonally inspired menu. And trust us, save room for dessert. Call 314-932-7818 for reservations.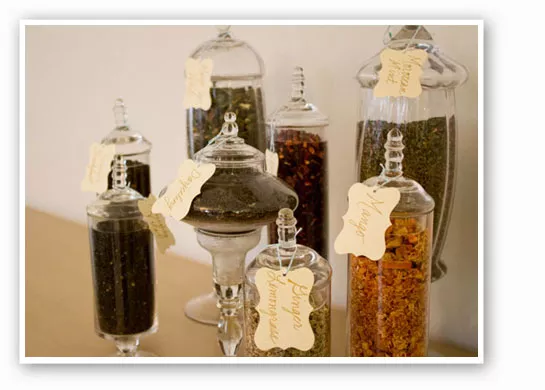 Loose teas at La Patisserie Chouquette. | Mabel Suen
La Patisserie Chouquette (1626 Tower Grove Avenue; 314-932-7935)
Maybe you'd rather stay in Friday night and, er, "watch a movie" with your significant other. Celebrate on Valentine's Day on Saturday with a "Lovers' Tea for Two" at this year's best bakery. Nibble on macarons, savory sandwiches, mini French pastries, housemade jams and a pot of the blended tea of your choice. It's $30 per couple; call 314-932-7935 for reservations.
Gut Check is always hungry for tips and feedback. E-mail the author at [email protected] or follow her on Twitter.
---