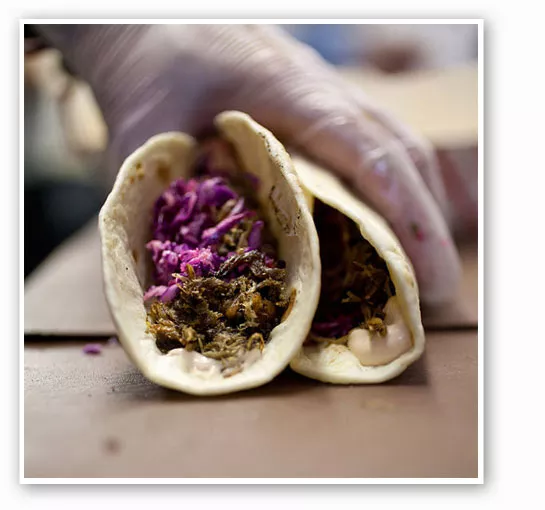 Tacos at Cha Cha Chow, our pick for the best food truck of 2013. | Jennifer Silverberg
UPDATE: This post has been updated with a comment from Sauce.
Food Truck Fridays in Tower Grove have become a summer institution in St. Louis. What started in 2011 with just sixteen trucks and the help of Sauce Magazine has grown into an event that attracts thousands of people and delicious eats. More trucks are hitting the roads every year -- there are currently 40 registered with the city of St. Louis -- to match the demand.
See also: The Final Food Truck Friday of 2013
The St. Louis Food Truck Association is working to bring an alternate event to Food Truck Friday to downtown beginning this spring. We spoke to STLFTA president (and owner of Yo! Salsa food truck) John Lutgen about the ambitious plan and why it's needed.
"We're all independent business owners -- one day a month isn't enough to pay the bills," Lutgen says. "So we're looking at other avenues that we can export our business into rather than just setting up at Citygarden and selling lunch at Wells Fargo."
With the help of Mayor Francis Slay's office, Lutgen is working out a spot at Soldiers' Memorial (Fourteenth and Chestnut streets) downtown on Thursday nights once a month, beginning in May.
"It's just to promote the food trucks, promote downtown St. Louis and show it off. The food-truck culture in St. Louis is really growing," Lutgen says. "For a city our size, it's pretty incredible." Lutgen says there are many events, like movie nights at the Saint Louis Art Museum and outdoor concerts in Chesterfield that have proven to be great venues for food trucks. But for many of those, including Food Truck Friday, the trucks themselves or the STLFTA have no say in who participates -- SLAM or Sauce or whoever's organizing it does.
Lutgen also says that many food-truck owners have been dismayed that the fee to participate in Food Truck Fridays this summer has gone up to $425 from last year's $275. "There's a percentage of trucks that that doesn't work in their business model, especially the dessert trucks. They don't generate the revenue to justify that expense," he says.
Sauce publisher Allyson Mace says Lutgen is overstating the fees to participate in Food Truck Friday. She also notes that part of the fees go toward charity. "It's expensive to put on these events and to give back to the community," says Mace. "But we wish John the best of luck with his event."
Although the city has been helping coordinate it doesn't plan events, and there's no budget for it even if the city did. Slay's scheduler Josh Weise is the point man on food-truck issues in the city, so he's been working with Lutgen.
"Sauce was the one that put this on the map. They busted their hump and got this all done. This is an overflow idea," Weise says. "Don't think of them as competing -- think of it as small businesses being out there. It's not a rivalry."
Lutgen says the STLFTA is looking for sponsorship, and anyone interested should contact a member of the board. "It's another avenue for us to promote what we do and who we are," he says. "We've got some great trucks -- 31 members that have a lot of really great products."
Gut Check is always hungry for tips and feedback. E-mail the author at nancy.stiles@riverfronttimes.com or follow her on Twitter.
---