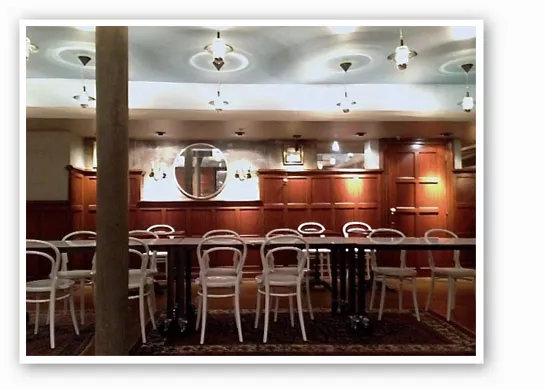 The Cellar at Winslow's Home. | Ann Lipton
Winslow's Home (7213 Delmar Boulevard, University City; 314-725-7559) has a reputation for feeling, well, homey -- it's nice to imagine you have a farm with all this delicious, local, fresh food at your disposal. You know, without all the work. In the same vein, owner Ann Lipton says the new downstairs event space is probably as close as you can get to dining in a private home or club. Dubbed "The Cellar," it's now available for private bookings, as well as Winslow's Home events.
See also: Wil Fernandez-Cruz Named Executive Chef at Winslow's Home
"It's a chameleon of a space, and it's sort of its own little thing," Lipton tells Gut Check. She already has breakfast business meetings, a beer dinner, cooking-technique classes and an investment-club meeting on the books.
Lipton says the Cellar has a very different feel from Winslow's Home -- there are mahogany panels from the old school-board building downtown, and it's "lit for fine dining," though that can change if you're holding a meeting.
The restaurant already does a lot of catering, and it has gotten requests to close off the upstairs space for private events. "There's a lot of people who are in here every day, and that would rub me the wrong way as a customer, to close it off for a private event," Lipton says. "So [the Cellar] seemed like a natural way for us to grow the business within this one location."
There is a downstairs kitchen and bakery, and a lift that connects with the upstairs kitchen. Lipton says depending on the event, customers can have a breakfast spread, a sit-down dinner, cocktails -- really anything. The Cellar can be booked pretty much any time -- even Monday nights, when Winslow's Home isn't open. Lipton says she toyed with a number of things before settling on the name and admits it's a bit of a misnomer.
"I like it because it's an unexpectedly gracious space for something called the Cellar. I guess it just sort of resonated with Winslow's Home," she says. "To call it something really fancy just seemed sort of silly -- even though it is kind of fancy."
You can call 314-725-7559 for more information about booking the Cellar.
Gut Check is always hungry for tips and feedback. E-mail the author at nancy.stiles@riverfronttimes.com or follow her on Twitter.
---