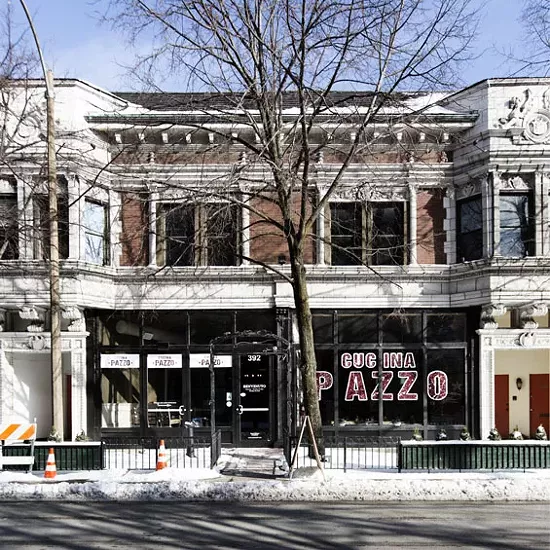 Cucina Pazzo | Jennifer Silverberg
A few years ago it would have been unthinkable to imagine the Central West End without Duff's. Then the St. Louis icon shuttered its doors last July, and Cucina Pazzo (392 North Euclid Avenue; 314-696-8400) stepped in to fill the void.
See Also: Cucina Pazzo Brings Rustic Italian to Former Duff's Location in the Central West End
This is the fourth restaurant in the OG Hospitality Group's portfolio, which includes the Tavern Kitchen & Bar. Cucina Pazzo's kitchen is led by Food & Wine magazine's 2013 "People's Best New Chef: Midwest" nominee Justin Haifley. All in all, it's a great pedigree, but is it enough to replace a legend?
This week, I visit Cucina Pazzo to see how this new restaurant is filling some very big shoes. Here is a sneak preview of my thoughts -- the full review will be online tomorrow and in this week's issue.
The specter of Duff's hangs heavily in the air at Cucina Pazzo. From the rustic brick archway that separates the bar and dining room, to the gouges in the wooden floorboards that saw 41 years of footsteps, it is impossible to walk into 392 North Euclid without feeling at least slightly nostalgic for the building's former tenant which closed last June due to financial difficulties. One gets the sense that Cucina Pazzo -- or "crazy kitchen" -- kept these details as a way to pay its respects and show a gentleness to the patrons who walk through its doors saying, "We used to be regulars." Like the second wife of a widower, Cucina Pazzo seems to know that while it cannot replace the beloved past, it can create a memorable future.
Follow Cheryl Baehr on Twitter at @CherylABaehr. E-mail the author at [email protected].
---