The bone marrow luge at Bugatti's, with port. | Nancy Stiles
Bone marrow was one of our favorite dishes when we reviewed Central Table Food Hall a few months ago, but it's one of the few restaurants in St. Louis serving the dish. You can get marrow with osso bucco, of course, at places like Lorenzo's Trattoria which generously provide you with a marrow spoon. The Italian restaurant at the Ameristar in St. Charles, Bugatti's (1 Ameristar Boulevard, St. Charles; 636-940-4471), is under new direction with a new chef and is rolling out a new menu in a month -- including a creamy bone marrow dish that doubles as a wine luge. Obviously, we had to investigate.
See also: Central Table Food Hall succeeds as a culinary hub for all palates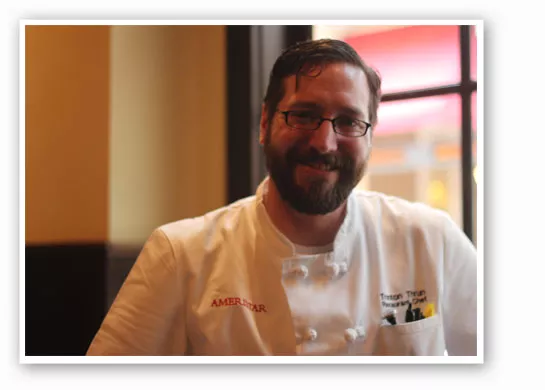 Chef Trent Thrun. | Nancy Stiles
"People are like, 'Bone marrow is fat!' It's not fat -- it's pure nutrients," Chef Trent Thrun tells us. "That's what bone marrow is. It's good for you actually. The port is just enhancing those flavors."
Thrun recently joined Bugatti's after seven years at a Ritz-Carlton in Georgia. He is hoping to make the restaurant a destination, not just a coda to the casino. To that end, bone marrow is being incorporated into multiple dishes. But first, the luge.
The marrow is roasted off the femur bone and served with house-made tomato rosemary focaccia and a tomato-onion jam. Pile both on the focaccia and enjoy the buttery, garlicky marrow. It's served with a glass of port, but leave some for the end. That's when you, mouth on bone, pour red wine down the vessel to pick up the flavors the marrow has left behind. It comes rushing into your mouth as you desperately try not to get port of all things on your clothes, and spill it all over the table instead. Thrun laughs, and genially wipes it up for you. "We want people to do that. We want people to come up and be like, 'Did you do the luge?'" he says.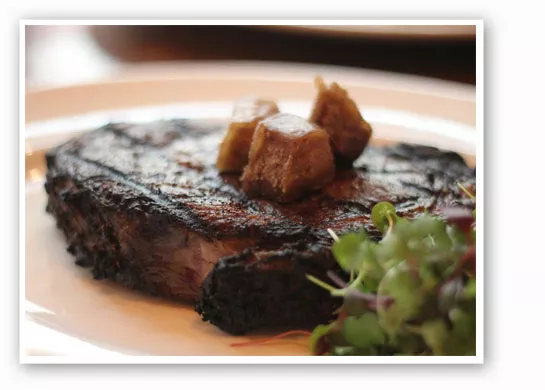 Prime rib topped with fried bone marrow. | Nancy Stiles
The other marrow dishes include steak with a bone marrow compound butter on top and fried bone marrow served on top of Bugatti's prime rib -- it's slightly crispy on the inside, and then explodes into creamy goodness when you begin chewing. Thrun is also experimenting with duck fat fries and a marrow dipping sauce.
Other new dishes include garganelli with Bolognese and tagliatelle with short rib ragu and blue cheese sauce, plus house-made meatballs made with veal, ground lamb and pork sausage served in a slight Bolognese, truffle-studded cheese and parsnip puree. Thrun also pickles his own vegetables -- those colorful jars at the back of the dining room aren't just for show. He also wants to develop partnerships with local farms so Bugatti's can locally source meat and other items. Unfortunately, it's a bit harder to work out when you're dealing with a corporate entity instead of your own small operation, but Bugatti's is already using Ozark Forest mushrooms.
Don't be alarmed if you don't see the bone marrow luge on the new menu -- it's a secret item, sort of like an everyday special. "For people that really enjoy bone marrow, this is it. When I first got here, I put it on special. People were like, no way!" Thrun says. "When people are really into the food it makes it all the sweeter."
Next: We luge!
We did this for YOU, reader. | Candice Coleman
House-made garganelli. | Nancy Stiles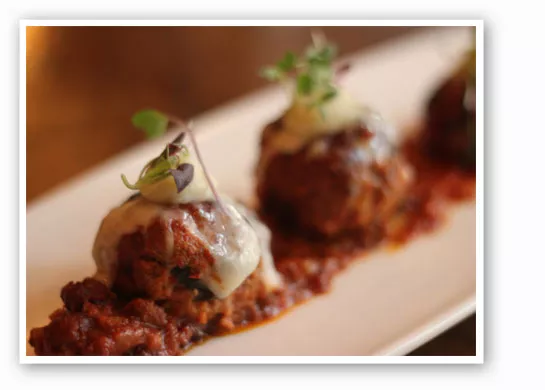 Meatballs of veal, ground lamb and pork sausage. | Nancy Stiles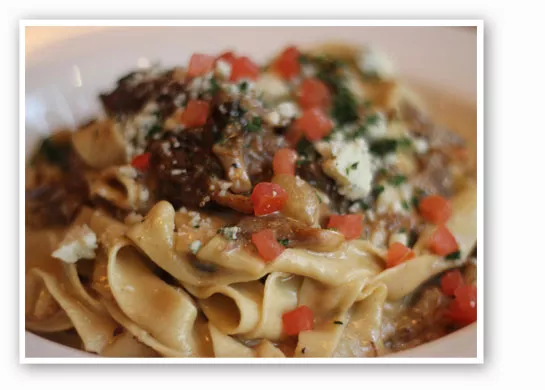 Tagliatelle with short rib ragu and blue cheese cream sauce. | Nancy Stiles
Gut Check is always hungry for tips and feedback. E-mail the author at nancy.stiles@riverfronttimes.com or follow her on Twitter.
---