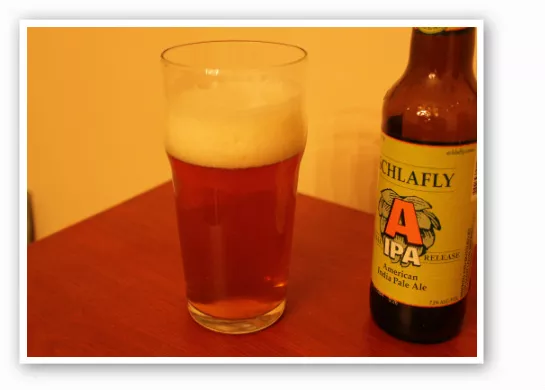 The hops of spring. | Zach Garrison
A weekly beer recommendation from Gut Check contributor Zach Garrison. Winter refuses to just back off, and it's to the point where we all just need a little hope, a glimmer of spring. Schlafly's (2100 Locust Street; 314-241-2337) American IPA (AIPA) is exactly that, a blessed bridge carrying beer drinkers toward warmer days and biergarten drinking. Seeking our own antidote to the bitter winds, we sought out a six-pack of this terrific beer.
See also: A Brew For you: Bell's "Hopslam Ale"
Released every year at the end of January until May, Schlafly's AIPA is one of the more popular local beers from the largest Missouri-owned brewery. As an "American" India pale ale, a more recent style that is largely connected with the renaissance of American craft brewing, Schlafly employs a battery of floral American hops and malt. This style has become the go-to for most hopheads, because it offers more flavors and more kick.
The hoppy bitterness combined with fresh citrus and pine found in Schlafly's AIPA makes for one crisp beer. The aroma is reminiscent of a West Coast IPA -- your nose will be bombarded with grapefruit and lemon along with, of course, waves of hops. Your first taste, though, will reveal a rich body with plenty of malt and a dry, bitter finish.
The fruity qualities sort of belie the alcoholic power of the AIPA, so though you'll likely throw this thing back with alacrity, keep in mind: at 7.2 percent ABV, this is a big beer.
You can find six packs all of over St. Louis -- a testament to its popularity. We found ours at the Straub's in the Central West End, and you shouldn't have any problem find it on draft at most craft beer bars.
Gut Check is always hungry for tips and feedback. E-mail us!
---