Pho for days. | Ian Froeb
Editor's note: It has come to our attention that some of the language in the recommendations below was excerpted from previous Riverfront Times' articles without giving proper credit to the writer who originally reviewed the restaurant. RFT is working on correcting this oversight and ensuring that it won't happen again.
In recent years, a spate of Vietnamese restaurants have popped up, bringing delicious Pho, a spice-filled broth served with noodles, to the masses. And we couldn't be happier. Lemongrass and ginger, rice and noodles, all fresh and remarkably healthy -- here are seven of our favorite spots to grab authentic Vietnamese cuisine.
See also: The Nine Best Chinese Restaurants in St. Louis
Pho Long (8629 Olive Boulevard, University City; 314-997-1218)
The pho broth at this U. City spot is so deeply flavored with the generous addition of basil and lime that you'll pause for a moment just to take in the aroma. You don't need much more than a bowl of good pho for a fast, satisfying meal: thin rice noodles, onions and scallions in beef broth, customized with your choice of meats -- eye round steak or flank steak are a solid option; oxtail or beef meatballs offer a heartier, earthier flavor. Best of all, pho is good for breakfast, lunch or dinner, in hot weather or cold.
Mai Lee (8396 Musick Memorial Drive, Brentwood; 314-645-2835)
Mai Lee is St. Louis' first Vietnamese restaurant, bringing in the crowds and introducing our city to this sumptuous cuisine. Though somewhat strangely located on the ground floor of a parking garage in Brentwood -- sandwiched between the Best Buy/Sports Authority colossus and the South Hanley Road Home Depot -- Mai Lee thrives, its dining room seemingly packed at every lunch and dinner. The menu is massive -- more than 200 dishes. Order any of them with confidence, from simple goi cuon (fresh summer rolls) to exotic ech xao lan (a stir-fry with lemongrass, curry and frogs' legs).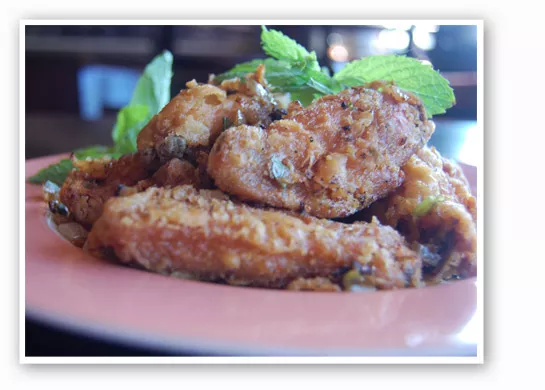 Wings capable of changing your life. | Cheryl Baehr
Mi Linh (9737 Manchester Road; 314-918-8868)
The soups are the highlights of the menu, along with the mi vit tiem, or five-herbs duck soup -- a clean, savory broth hinted at just a scent of lemongrass perfume to give it a subtle sweetness and duck, its skin somehow able to maintain its crispiness even though it was resting atop a bowl of steaming soup (they really get texture at Mi Linh). However, it's the butter garlic chicken wings that will leave a lasting impression. These meaty wings burst with garlic pungency, and the breading has a delicate, crispy texture. Green and white onions cooked in the pan drippings of the chicken are infused with the garlic, spices and pepper and serve as a bed for the wings. This is one of the best dishes in town and alone merit a visit. Have fun with a creative cocktail list that includes concoctions made with house infused vodkas.
Dao Tien Vietnamese Bistro (8600 Olive Boulevard, University City; 314-995-6960)
While the menu here isn't as broad or as adventurous as at other Vietnamese restaurants in the area, it offers many of the most popular dishes, and what Dao Tien does, it does well. You certainly can't go wrong starting your meal with an order of goi cuon (spring rolls), one of a half-dozen appetizers. The filling keeps things simple: vermicelli, crisp mint and plump shrimp; on the side, for dipping, is a thick hoisin-peanut sauce. The cha gio (egg rolls) come with a side of the restaurant's excellent nuoc cham dipping sauce. Tart and spicy, nuoc cham is a signature Vietnamese condiment, its flavor profile drawn with bold strokes of fish sauce (nuoc mam), lime juice, vinegar and minced chiles and garlic.

-- Ian Froeb
Read original review of Dao Tien here: Nuoc Charm: Dao Tien is a peach of a Vietnamese bistro, and a slice of home-style heaven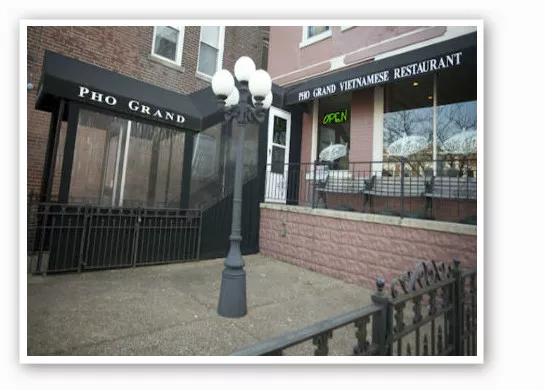 Welcome to Pho Grand. | Sara Rusnack
Pho Grand 3195 S. Grand Boulevard; 314-664-7435
Pho Grand's menu has been St. Louis' gateway from the familiar to the more adventurous aspects of Vietnamese cuisine, like fried silkworms and squid teeth. Many dishes hook you, like the banh cuon thit nuong (soft rice-flour crêpes boast a flavor profile of pure addiction, filled with ground pork, cloud ear mushrooms, onions and a sweet, garlicky nuoc cham dipping sauce). Next up is banh xeo, a.k.a. "Happy Pancake," a crisp and cheerful counterpoint to the decadence that came before it. The menu offers a lot of latitude for exploration while you're buzzed on the cafe sua da, iced chicory coffee made deliciously viscous with sweetened condensed milk.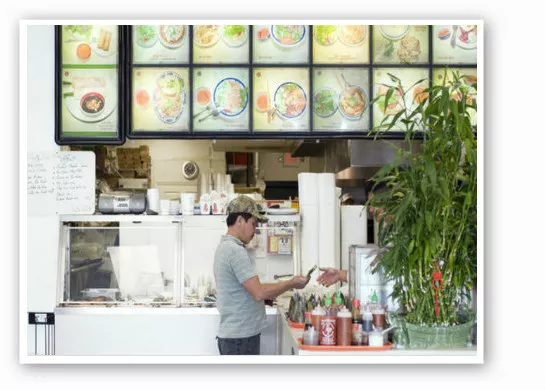 Bask in the glow of Phuc Loi. | RFT
Phuc Loi (3723 Gravois Avenue; 314-772-7742)
Perhaps the most unassuming restaurant in all of St. Louis, Phuc Loi makes up for its blink-and-you-miss-it exterior with terrific Vietnamese dishes. The bun bo Hue is an incredible pork soup, fiery hot, with the strong mineral note of pork blood. The best dish might be the banh mi dac biet, the popular Vietnamese sandwich with ham, head cheese and -- what puts it over the top -- a fried egg.

-- Ian Froeb
Read the original post here:
Banh Mi So #1 - Saigon Gourmet (4071 South Grand Boulevard; 314-353-0545)
You might visit this charming South Grand spot for banh mi -- it's in the name, after all -- delicious sandwiches with thinly sliced meat, pickled vegetables and sometimes pate on a crusty baguette. Or you might decide to test the neon sign in the window that proclaims the best spring rolls in St. Louis. These, too, won't disappoint. Or you might just settle for a simple bowl of pho, redolent of cilantro and basil, or paper-thin char-grilled pork over rice sauced with nuoc cham that hits the perfect spot between sweet and spicy.

-- Tom Finkel
Read the original post here: Tip o' the Cap: Banh Mi So #1 -- Saigon Gourmet
Gut Check is always hungry for tips and feedback. E-mail us!
---