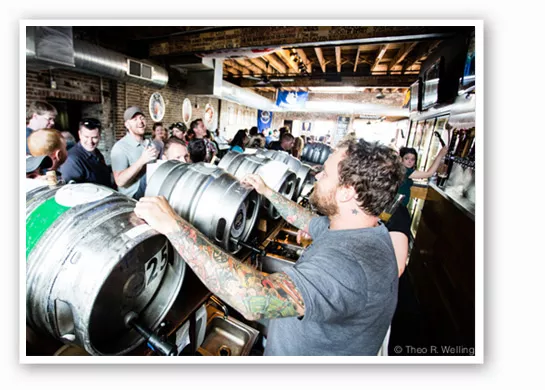 Itap in full swing. | Theo Welling
Not too long ago, if someone had suggested opening a bar in St. Louis that served only beer (no food, no liquor), while excluding any and all Anheuser-Busch products, most would have dismissed the idea immediately. Yet, the International Tap House (161 Long Road, Chesterfield; 636-537-8787), has not only become one of the most popular bars in St. Louis, it's expanded out from the original Chesterfield location, opening two new iTaps in St. Louis and one in Columbia. Legions of beer drinkers over the years have turned to iTap to find both new, exotic brews. Now, to celebrate the last five years of excellence, iTap put together a pretty amazing week of tap takeovers, special releases and guest appearances -- we've gone through the sizeable list and narrowed down to the ones we're most excited about.
See also: Best Beer Selection in a Bar St. Louis 2012
NOTE: All events will take place at the Chesterfield Location.
Sunday, February 2, "Super Share"
Need a place to watch the Super Bowl? Starting a 3 p.m., the good people at iTap will kick off a potluck dinner combined with an epic beer sharing -- everyone brings their favorite rare beer to share or trade.
Monday, February 3, "Memory Monday"
iTap is setting up the original draft lineup from 2009 starting at 6 p.m., and cutting the price in half.
Tuesday, February 4, Bell's Takeover
Two words: "Expedition Stout." iTap is also giving away a trip for two to Bell's Brewery in Michigan, which means more Expedition Stout.
Wednesday, February 5, Perennial/Abraxas Night
Keeping up the tradition of supporting local breweries, iTap will put the massively popular Abraxas from Perennial Artisan Ales (8125 Michigan Avenue; 314-631-7300) and all its many iterations on tap. Other special releases from Perennial will also be available, including, possibly, "Fantastic Voyage."
Thursday, February 6, Boulevard and Passport Appreciation
Special guest: Jeremy Danner of Boulevard Brewing Company will be on hand to tap some of the breweries fine products, but mostly you should do your best to get a glass of the Keg of "Foeder Projekt," a rare, barrel-aged beer.
Friday, February 7, Firkin Friday
Starting at 4 p.m., firkins of 4 Hands, 2nd Shift, Schlafly and others will be on offer.
Saturday February 8, Celebrity Bartender
Starting at noon a host of guest bartenders -- former employees and local brewers -- will choose beer specials and sling suds.
Gut Check is always hungry for tips and feedback. E-mail us!
---